12 Celebrity Wedding Planning Ideas We Love!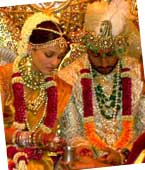 Duplicating a celebrity wedding outright may seem the ultimate fairytale come true for newly-engaged couples, but actually, there's nothing to stop you from scaling down some of the glitz, masti and stylish approaches of star weddings to raise the class-quotient of your own wedding ceremony!

Simply pick the elements you like from one or more Celebrity Wedding Planning Ideas we present and fashion these according to your personal tastes!

Give a personal twist to these unique celeb wedding planning ideas and gift yourself a Wedding Wow!!



Make wedding favors count as personal tokens of gratitude for guests! Most Western and Parsi weddings have candy or monogrammed prezzies or even especially flavored/uniquely shaped chocolates, but look beyond these clichéd thank you gifts! Hollywood actress Anna Chlumsky ('My Girl') married out of her culture and chose to give away something representative of the culture - chopsticks were her choice!!

Perhaps, you could pack colorful glass or fancier bangles for your Indian wedding or consider customized wedding favors like satin / zari / lace drawstring purses filled with rose petals, 'Gems' inscribed with your initials or even pot-pourri for a meaningful wedding favor!

Small B's Big Day! The Abhi-Ash wedding bash highlight: Amit-Jaya Bachchan reportedly performed a special waltz for the betrothed couple and some close friends also presented special song-dance skits at the Mehendi-Sangeet ceremony by the groom's parents!

If you can't arrange for a power-house pair like Amitabh-Jaya to shake a leg at your wedding and your folk aren't quite Nach Baliye material either, why not join a Salsa / Rumba / Bollywood dancing class in your city with your partner and herald a new dawn for D-Day celebrations, in your preferred ishtyle ?

Else, take a cue from Paul McCartney (founder member, Beatles) and glam-diva Heather Mills's 2002 wedding hosted at a cost of $3 Million at St. Salvator's Church, Castle Leslie, Ireland. They catered for 300 guests with an Indian themed reception (and vegetarian fare), a top-end designer wedding gown for the bride and a bouquet comprising roses named after the groom before treating the invitees to a fabulous fireworks display!!
Wanna pinch pennies? Opt for the affordable alternative for emulating their star style: buy bridal wear from upcoming local designers, cut back on the guest list and escape to a tropical island for the honeymoon with the money saved! (This celeb couple went to a private island in the Seychelles; they sadly divorced this year.)

Hollywood or Bollywood celebs aren't the only ones indulging in enchanting wedding celebrations: business men and women and even a Crown Prince make it to our list! Check out more celebrity wedding planning ideas and how you can adapt these to your celebrations!

Top Celebrity Wedding Planning Ideas: 'Wow' factors for your wedding vows!


Deepanjolie Sonya Figg
Pink Printed Tunic
John Players Signature Line T-Shirt for Men
Wills Lifestyle Casual Denim For Men
Rs.2,135 ($44.35)
Rs.1,095 ($22.75)
Rs.1,695 ($35.21)











Ask our Experts :
Expert Advice, Personality, Immigration (US), Tarot, Hot Couture, Body Care, Matrimonial Laws, Sexual Health, Life, etc, Man vs Woman, Fitness.