8 Celebrity Wedding Cakes
Sweet Nothings and Sugared Dreams!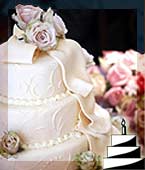 The wedding cake symbolizes wishes for fertility and sweet beginnings for the bride and groom, but when it comes to our celebs, there's just no stopping them from going overboard with the gum-drops, sugar-plumz, designer treatment to their D-Day choices in these!

Celebrity Wedding Cake Designs We Love!

Guests at pop idol Billy Joel's reception were suitably impressed by the profusion of multi-colored sugar flowers that were, at intervals, decorated with artificial lemons, pears and green apples that cascaded down the side of a deliciously devilish 4-tier chocolate wedding cake!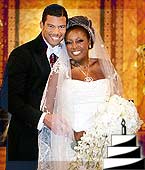 Perfect Endings created Star Jones Reynolds's wedding cake: a sweet treat 10-feet high, bedecked with a spray of baby pink, sky blue and white flowers that tempted banquet guests at the Waldorf-Astoria. Psst! Those craving a quick chocolate fix right now can pick up ''Sweet Celebrations'' - the book by confectionary diva, Sylvia Weinstock, the creator of this wonderfully sinful extravagance!

Closer to home, although Indian weddings don't traditionally have a cake, brides may want to go with one of these two. Henna or mehendi designs have been 'painted' onto the wedding cake to match the design on the bride's hands!

In the second option, an Indian couple is used as the cake toppers. Ultra cute if you please!

More celebrity wedding cakes we loved.



Deepanjolie Sonya Figg
Spykar's Denim Jeans For Women
Pink Printed Tunic
Wills Lifestyle Casual Top For Women
Rs.1,999 ($41.52)
Rs.1,899 ($39.45)
Rs.2,135 ($44.35)
Rs.1,395 ($28.98)











Ask our Experts :
Expert Advice, Personality, Immigration (US), Tarot, Hot Couture, Body Care, Matrimonial Laws, Sexual Health, Life, etc, Man vs Woman, Fitness.