Wedding Advice That You Should NOT Heed!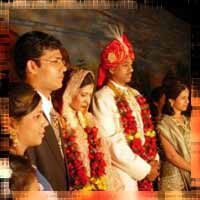 Planning a wedding can be quite a daunting task, what with the hundreds of things that need to be organized for a wedding. At such a time, wedding advice will come to you from every quarter possible. Whether it is your close friends or your not-so-close mami, kaki, or uncle, you're likely to receive advice from all and sundry. Although they may mean well, the advice that you get may not always be in your best interest.

Thus, it is important that you take all the advice with a pinch of salt and know what you should heed and what to ignore. Here are some bits of advice that you would be better off NOT paying attention to.


Wedding Advice That You Should Avoid


How can you not call that uncle's second cousin? Put his name on the guest list too: The guest list for most Indian weddings tends to be extremely long thanks to our extended families and all the various business associates that one needs to invite for the wedding. So, don't let anyone guilt you into inviting someone who you don't know simply because they think you should invite him. It is your wedding and you invite only those people who YOU think need to be there.
You're the bride, so you have the right to demand whatever you want!
Ok, so you are the bride and it is your big day after all. However, that does not give you the right to turn into a bridezilla! Yes, it is alright to want things to be a certain way and you can have your way by kindly requesting your family and friends to help you plan the perfect wedding. But, don't be obnoxious about it, unless you want some drama before or during the wedding.
Just send them an invitation. They aren't going to come as it is: Never send anyone an invitation to your wedding assuming that they are not going to show up. They may very well not come, but you need to be sure that it is ok with you if they do come. And not just ok, but if you invite many people thinking that they won't come, you could have a huge problem catering to them if they land up at the wedding. So, don't ever send out an invite just so you can later say that you invited that person to your wedding.
What's the big rush? You have plenty of time to plan everything: Time has a way of getting away from us, especially when you're planning a wedding. So, regardless of how much time you think you have, you need to start planning as soon as possible. Reception halls and wedding service providers such as photographers, hair dressers, make-up artists etc get booked months in advance. The only way to ensure that you get the vendors you want is to book them early. Also, it is always best to leave plenty of time should you decide to change your mind about anything.
You need to lose some weight before the wedding. Go on a diet: Yes, we all want to look fabulous at our weddings, but going on a crash diet to lose weight quickly before the big day is a bad idea. In a bid to lose weight, you could start looking and feeling sickly. So, instead of trying to lose weight just before the wedding, get started on a regular weight loss regime by eating right and exercising regularly.
Ruchi Agarwal
John Players Casual T-Shirt for Men
Wills Lifestyle Casual Top For Women
Spykar's Denim Jeans For Women
Rs.1,999 ($41.52)
Rs.995 ($20.67)
Rs.1,495 ($31.06)
Rs.1,899 ($39.45)











Ask our Experts :
Expert Advice, Personality, Immigration (US), Tarot, Hot Couture, Body Care, Matrimonial Laws, Sexual Health, Life, etc, Man vs Woman, Fitness.