Roman Fantasy Theme Wedding


Nimmu asks,
How does one plan a Roman Fantasy Theme Wedding?


Dear Nimmu,
Roman Fantasy Theme can be used in both Pre-wedding functions or for the main reception function. It is an entirely unique theme and requires a lot of creativity.

The overall budget for this kind of theme decor would be high. This is because one cannot cut down on the backdrops etc., as the whole effect would be lost.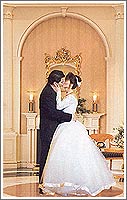 Another important point would be the size of the venue. An open venue would require more elaborate decor and lighting. This kind of decor basically requires a lot of pillars and columns with intricate designs. Arches with sheer drapes like a covered walk away, stone sculptures placed at regular intervals, etc.

The entrance to the venue and the backdrops need to be more elaborate with Roman paintings of colosseum, chariots and gladiators etc.

Miniature landscaped gardens and fountains with a lot of lights should be incorporated.

On the whole, a real grand and majestic look should be achieved.


Sneha & Dipa
Applique Work Stripes Kurti
John Players Signature Line T-Shirt for Men
Pink Printed Tunic
Rs.1,380 ($28.67)
Rs.1,200 ($24.93)
Rs.1,095 ($22.75)
Rs.2,135 ($44.35)











Ask our Experts :
Expert Advice, Personality, Immigration (US), Tarot, Hot Couture, Body Care, Matrimonial Laws, Sexual Health, Life, etc, Man vs Woman, Fitness.