Monsoon wedding theme
Keep these do's and don?ts in mind
Monsoon though ideally is not the best wedding season it may not be such a difficult occasion to organise, if these do's and don'ts are kept in mind.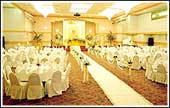 Venue
Plan all the function in an indoor venue. Ideally located, so that it is easily accessible to all the guests.



Avoid low-lying areas, which get flooded easily.



In case the venue has an open area, terrace arrange for them to be covered with an additional tarpaulin cover.



Entrance to the venue should be covered completely and also such that there are no chances of puddles etc. Keep an extra wooden plank to raise the walk- way.



Car parking, valet service should ensure that guests have minimum difficulty in entering the venue.
Food service
Food at all the wedding functions should be piping hot and covered with care.



Hot soups on live counters and dessert counters serving hot jalebi are quite popular.

Car Decor
With respect to the wedding car use only fresh flowers. Avoid tissues, bows and nets etc.

Last but not the least enjoy the wedding, a monsoon wedding theme is truly unique. Include a rain dance as pre-wedding function. This can be completely a casual affair where all the guests enjoy the rain. Serve hot snacks like bhajias, hot coffee and tea etc. A small umbrella can be given as a souvenir.


Sneha & Dipa
John Players Casual T-Shirt for Men
Wills Lifestyle Casual Denim For Men
John Players Signature Line T-Shirt for Men
Rs.995 ($20.67)
Rs.1,695 ($35.21)
Rs.1,095 ($22.75)











Ask our Experts :
Expert Advice, Personality, Immigration (US), Tarot, Hot Couture, Body Care, Matrimonial Laws, Sexual Health, Life, etc, Man vs Woman, Fitness.