A Garden Theme Wedding


Ravi asks,
I am 26-year-old guy from New Jersey. I would like to know how does one plan a Garden Theme wedding as we are arranging the wedding in our lawn.


Dear Ravi,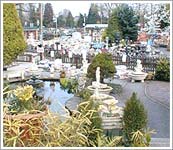 A garden wedding would be really unique if the garden is very well landscaped, well maintained and has natural flowers in abundance. This would make it very cost effective as the number of props required all around would be less.

The main stage could be created around a beautiful corner. You could do away with formal seating and move around and mingle with your guests.


Halogen lights, concealed lights can be used to illuminate the trees and the entire garden.

Miniature fountains and water bodies can be placed on the walkways.

A barbeque menu would go well with the theme.


Sneha & Dipa
Spykar's Denim Jeans For Women
Wills Lifestyle Casual Top For Women
John Players Casual T-Shirt for Men
Rs.1,999 ($41.52)
Rs.1,899 ($39.45)
Rs.1,395 ($28.98)
Rs.995 ($20.67)











Ask our Experts :
Expert Advice, Personality, Immigration (US), Tarot, Hot Couture, Body Care, Matrimonial Laws, Sexual Health, Life, etc, Man vs Woman, Fitness.