The Secret Of Creating A Magical Wedding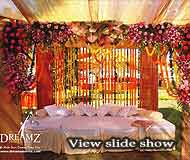 The ultimate in private entertaining, your wedding is the most important day of your life and you usually only get one shot at creating the 'perfect' day!

The secret of creating a magical wedding is undoubtedly careful and lengthy planning. Start with the obvious elements - the venue, catering, flowers, invitations, the cake, the wedding dress, the wedding car, champagne and so on. Then consider the finer details such as the trousseau, Video & Photography, Dolis, Orchestras, Entertainment and even the Honeymoon Planning.


The beauty of the wedding is that it can be a simple, intimate and beautiful affair or, at the other end of the spectrum, a big, bold, spectacular celebration filled with all the glamour and entertainment usually associated with big budget corporate parties. Just look at the Beckhams, Nayyars or Mittals!

Nowadays theme pre-wedding parties and weddings are gaining more and more popularity, as people love the chance to dress up and playact.

Some Popular Themes
Village Theme: A traditional touch is given to all the décor and props. Things like pots, bullock carts, lanterns are used as part of the décor. The entertainment also follows the theme.
Hawaiian: A Calypso band, grass skirts, bonfires and authentic Hawaiian food makes for a fun party.
Goan: The sets are done up in a Goan village style or beachfront style, food includes authentic feni and Goan dishes and Goan singers add charm to the party.
Indian theme: Everything ethnic, flowers, diyas, rangoli, folk dancers, tabla, sitar artists performers, paan wallahs etc. This theme works very well with NRIs getting married in India.
Arabian night: A desert or oasis setting, tented canopies, palm trees, Arab costumes for the waiters, camels and goats, belly dancers, Arabian music all make for a very exotic party.
DreamZ has a dedicated department dealing just with wedding related enquiries. From concept to design Event Management Systems is regularly asked to put together wedding packages and organise weddings. For your theme wedding DreamZ is the best way to ensure it is a success.
A shaaditimes feature
Spykar's Denim Jeans For Women
John Players Signature Line T-Shirt for Men
Cotton Kurta with Gold Print
Rs.1,999 ($41.52)
Rs.1,000 ($20.77)
Rs.1,899 ($39.45)
Rs.1,095 ($22.75)
Rs.769 ($15.97)











Ask our Experts :
Expert Advice, Personality, Immigration (US), Tarot, Hot Couture, Body Care, Matrimonial Laws, Sexual Health, Life, etc, Man vs Woman, Fitness.