A Desert Theme


Noopur asks,
I am an Indian citizen, and will be marring very soon in the month of November. The venue has not been fixed. I would like to have my wedding ceremony and the reception in the middle of a desert. Could you please suggest a good place in India? Thanks.


Dear Noopur,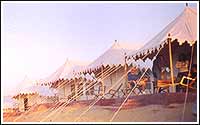 Manwar-Sand dune resort is situated close to Jaisalmer, this resort would make an ideal setting for all those looking for a complete rustic atmosphere.

There are tents put up in the middle of a desert with breathtaking view of sand dunes. A wedding mandap tent can be put up specially on request.

Arrangements for food and drinks are done a little away from the main tents.

Entertainers like ghoomar dancers, folk singers and troupes, puppeteers are arranged. Guests can be made to sit on special mattresses on sand itself . Torches are lit to make the setting picturesque.

Desert safaris are also arranged for the guests.

Approximate expense could be around Rs 5000/day per person for stay and food. Other wedding costs can be worked out depending on requirements.

Best season would be October to Feburary.


Sneha & Dipa
Wills Lifestyle Casual Denim For Men
Cotton Kurta with Gold Print
John Players Casual T-Shirt for Men
Rs.1,000 ($20.77)
Rs.1,695 ($35.21)
Rs.769 ($15.97)
Rs.995 ($20.67)











Ask our Experts :
Expert Advice, Personality, Immigration (US), Tarot, Hot Couture, Body Care, Matrimonial Laws, Sexual Health, Life, etc, Man vs Woman, Fitness.