An Arabian Night theme


Sweta asks,
I want an Arabian Night theme for my wedding. Can you please suggest how do I go about it?


Dear Sweta,
Arabian Night theme is one of the most preferred themes in recent weddings. The venue can be elaborated with lavishly decorated chiffon drapes, treasure chests and hukkas set up in tents along with candle stands.
Colour scheme: Options for various colours are as follows: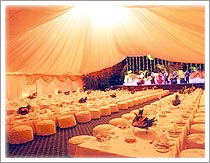 Gold and Black
Green and gold
Red, Gold and Silver

The cuisine can include pita bread, hummus with tahini dip, babaganoush, mottabl made from finely roasted eggplant and white sesame, tabouleh salad, cheese filled sambousik and samosa - like fatayir filled with spinach. This elaborate spread along with the decor will give your occasion a touch of class.

Belly dancers can dance to the tune of Arabian music to add glamour to the event.


Sneha & Dipa
Wills Lifestyle Casual Top For Women
Applique Work Stripes Kurti
Cotton Kurta with Gold Print
Rs.1,380 ($28.67)
Rs.1,000 ($20.77)
Rs.1,395 ($28.98)
Rs.1,200 ($24.93)
Rs.769 ($15.97)











Ask our Experts :
Expert Advice, Personality, Immigration (US), Tarot, Hot Couture, Body Care, Matrimonial Laws, Sexual Health, Life, etc, Man vs Woman, Fitness.