Tracing matrimony
Has marriage evolved with the ever-evolving human species?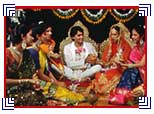 About half a million years ago, the species called Homo Sapiens evolved and gave us the roots of all that we call civilized today. Although it's more fashionable to look forward to where marriage is heading, today we take a twist and look back. Let's trace what has led to the present day concept of marriage, in sum, as we know it today and made us the couples that we are in the 21st century.

The history
As men started living in groups, societies developed. As societies developed the roles and functions of it's member's developed. Earlier societies of more than a 10,000 years back had simple societies without complex structures or hierarchies. The role of men and women were simple and basic. The men hunted for food and the women cooked it. Their needs were basic, as was the need-fulfillment. In primitive societies, sex was seen as a basic urge and slowly developed as a weapon for subjugation for women. A woman was "scored" or "won" or "subjugated" with the act of sex.


It was when societies started getting structured that the concept of marriage as a ceiling under which a man and woman live together and procreate, emerged. As societies began to get complex, with hierarchies and diversification of roles, problems surfaced. Ancient societies in Africa, India, Inca civilizations (amongst others) dealt with double problems of inheritance and recording legitimacy of children.

Fundamentally, marriage as an institution, a raw version of what it is today, was initiated for sociological reasons. The legitimacy of children, family-building, families being seen as core units of societies were some of the reasons. According to the Marxist theory of history, marriage evolved from the economic point of view of inheritance, heir-ship and reception of titles in clans. It was the economic aspect of marriages that brought into existence concepts such as bride-price, dowry etc.

Politics and Marriage
With the onset of the imperial system of political governance the hierarchical structures of societies became more complex. Identification of heirs assumed a larger significance. A summation of an Athenian court of law said, "We have call girls for our pleasure, mistresses for the refreshment of our bodies, and wives to bear legitimate children and keep our house." The use of the word legitimate suggests an interest of the State in recognising marriage and giving it a socio-political acceptance. There is a lot of evidence, which shows how the earliest Greeks laid a lot of emphasis on legitimacy of children.

The advancement of royalty in play with a sociological institution like marriage made it also a political weapon in the hands of the State. Marriages were done to appease enemies, as signatures of amalgamations of kingdoms; daughters were given away (in marriage) as gifts and so forth. All these were considered the norm rather than the exception of imperial governance in civilizations like Vedic India, Mesopotamia and ancient Egypt from way back in 3000 BC even upto the 18th century.

Religion
As religion became dominant as a daily ritual and added to the mainstream of society the focus shifted to the subject of spirituality. It is Judaism or Hebraism that first called the physical union of a man and woman in matrimony as spiritual, and sanctified it by saying it was an injunction from the divine. As religion sought to instill a code of behavior in an individual, it devised morals and values systems around the act of marriage and thus sought to give it more meaning and purpose in an individual's life.

Marriage and having a family were considered sacred duties of an individual in the Judaic doctrine. In the age of Christianity, marriage was no longer a means to identify offspring for fair inheritance. It was no longer a weapon to appease political enemies. It was now a part of the seven necessary sacraments - the completion of which would help man attain heaven. Islam built on this further but added pragmatism, which was the need of the hour for the people whose redemption it was.













Ask our Experts :
Expert Advice, Personality, Immigration (US), Tarot, Hot Couture, Body Care, Matrimonial Laws, Sexual Health, Life, etc, Man vs Woman, Fitness.

Copyright © 2020 Shaaditimes.com - A relationship and wedding portal by Shaadi.com. - All Rights Reserved.
Terms and Conditions