Solah Shringar
The 16 arts of Beautification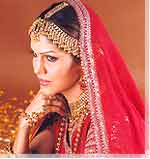 These embellishments not only adorn the beauty of a woman but in many cases also safeguard her health. Bindi and sindoor are not mere symbols of marriage, they also have their scientific aspect.



1 - Anointing

The first custom in a wedding ceremony is to anoint both the bride and groom with turmeric. The bride and bridegroom are also anointed a few days before the wedding with oil and gram flour. All of these also have a health aspect, turmeric works as an antiseptic and the oil makes the skin supple. Gram flour makes the skin glow and it is also a natural method of removing unwanted hair which, today of course has been replaced by waxing.




2 - Daubing

Daubing the face and body with saffron, sandalwood paste etc, is also an essential part of beautification. Today these come in the form of face and body packs. Using these enhances the skin's radiance and cleanness hair follicles.



3 - Missi

Missi is the scented bark of a particular type of wood. It is used not only to clean teeth, but also a chemical-free teeth whitener and mouth freshener.



4 - Bath

Right upto the pituitary gland where all out feelings are centred.



5 - Hairstyle

"The moon plaited the loose hair of the night.
The stars filled the parted hair with pearls."

In a culture that visualises the beauties of nature as a beautiful head of hair, what could the plaiting of a bride's hair be, but an artistic expression! Hair is undoubtedly an integral part of a woman's beauty. Apart from that, it also protects the head from natural elements such as sunlight and rain. It is especially said to provide protection to the pituitary glands which is located at the back of head. This gland functions as an antenna for the body, routing all the emotional signals to be received by the brain. The practice of plaiting hair grew from the effort to protect this gland. In earlier times even men used to sport a knot of hair to provide this gland with a protective shell.

The art of adorning the hair has been added to during every era in our history. During earlier times long hair in women was a measure of beauty. Much time and artistic effort was spent in adorning it. After it was plaited, it was decorated with different varieties of gemstones and flowers. And today, even though short hair is more suited to our fast paced life, this practice of plaiting and adorning one's hair is present in some form or the others.



6 - Bridal Wear

A bride's dress brings to mind vision of sumptuous garments adorned with zardosi and the art of needlework all of which are unique to Indian culture. Sarees and lehngas, casting their magical spells of colour and texture couldn't possibly be produced anywhere else. The innumerable ways of draping the six yard saree is a secret that Indian women treasure, no matter which part of India they come from.

The Indian bride traditionally wears garments of white zari or red fabric. Whereas white is a symbol of purity, the red confers energy. Although sarees have been the garment of choice in the past, most modern brides tend to prefer lehengas - an ancient ceremonial attire in our culture, which makes a bride appear no less attractive than a celestial nymph!













Ask our Experts :
Expert Advice, Personality, Immigration (US), Tarot, Hot Couture, Body Care, Matrimonial Laws, Sexual Health, Life, etc, Man vs Woman, Fitness.

Copyright © 2020 Shaaditimes.com - A relationship and wedding portal by Shaadi.com. - All Rights Reserved.
Terms and Conditions