Beyond one's own
Blending different traditions and cultures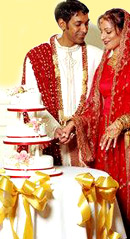 The global village syndrome seems to be affecting cultures more than the economies. In the context of marriages and ceremonies, the last few decades have seen a seamless amalgamation of foreign customs by various ethnic groups. Be it trans-border or within India, cultural boundaries may be still rigid but influences are seeping through.

Take for example the custom of cake-cutting that the bride and groom go through in Christian weddings. More often then not, these days the groom's friends organise a little cake-cutting party after the bidaai of the bride. The custom is meant to be as celebratory as it is in its original Christian context.

Another famous Western custom that Indians have been following with great gusto is the pre-wedding bachelor / spinster parties. In the West, these parties are supposed to celebrate the last precious day of, 'free' single hood. The bride has a party with her girlfriends and the groom with his guy friends to commemorate the last day of their 'freedom'.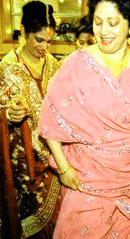 Talking about intercultural influences, a wide variety of customs find acceptance in different communities due to their popularity. At times, the trendiness of it all makes for the temporary inclusion to become a done thing. For example, the custom of hiding the groom's shoes before the bidaai as a playful act by the bride's sisters. This, a basically North Indian custom is a fun activity which leads to a lot of teasing, battle of wits and laughter. It has now become almost a part of a number of community marriages, traditional or otherwise.

Another Northern custom to be adopted is the sangeet. A typically Punjabi custom, sangeet is a musical evening that is set aside where the female relatives sing wedding folk songs and dance their hearts out. These days sangeet is not a pro-gender affair nor is it limited to the Punjabi traditions.













Ask our Experts :
Expert Advice, Personality, Immigration (US), Tarot, Hot Couture, Body Care, Matrimonial Laws, Sexual Health, Life, etc, Man vs Woman, Fitness.

Copyright © 2020 Shaaditimes.com - A relationship and wedding portal by Shaadi.com. - All Rights Reserved.
Terms and Conditions