Tips For A Monsoon Wedding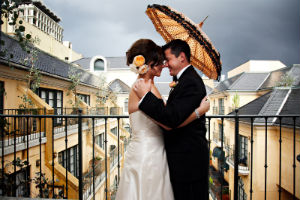 Monsoon season has always been associated with romance and love, agreed! But if you've got your wedding coming up this rainy season and you haven't thought of ways to save your day, it can truly become an unforgettable day for you and your guests instead of being a memorable one! So, just to make sure that this monsoon doesn't ruin your D-day keep these simple tips in mind...


First and foremost

Your first priority should be to plan well for the gathering. So, you got to make arrangements for a gazebo or water proof tent if you've got your reception planned in an outdoor venue. Don't let the downpour ruin all the fun on your special day.


The Venue


Since you've planned your wedding during monsoons, we just hope you've chosen a convenient venue, as commuting during this season is a real pain. "It's best to book an indoor place for a wedding during monsoons because if it rains on the wedding day, it'll spoil all the fun. Since the floor is muddy and slippery, not too many people want to dance, plus very few of them may turn up for the wedding. So, its best to avoid an outdoor venue during monsoon. Moreover, you need to make sure everything, right from the DJ's corner to parking facilities and generators, etc are all in place or your guests are only going to curse you for choosing a tough venue like this," suggests Delhi-based wedding planner Swati Chiripal.

Wedding Attire
We agree Indian weddings are all about beautiful outfits, loads of jewellery and heavy make up, but please keep all of this aside if you have your wedding during the monsoon season. Fashion Designer Narendra Kumar says, "Brides should avoid wearing velvets, thick silks, heavy brocade or an extremely heavily embroidered lehenga choli for a monsoon wedding, especially if it's an outdoor venue. In stead you can opt for fabrics like georgette, chiffon, net, crepe brocade or lace in light and pastel shades, as they're lightweight and more suitable for the season." He further adds, "As far as the grooms are concerned, it's best to avoid any heavy fabrics and instead go for a soft and light fabric blazer or sherwani paired with churidar. But sherwanis paired with voluminous dhotis are an absolute no-no during this season."

The Make-up
Book your slot in the beauty parlour well in advance and remind your beautician to give you waterproof makeup, in case she forgets. Or be prepared for the black-eyed panda look, even if slight drizzles touch your eye makeup. "Bridal make up depends on the season, for instance waterproof makeup is best for monsoon, where as cream based make up is meant for winter and water based make up for summer. Now-a-days bridal make up has become more glossy and shimmery depending on the colour of your outfit. Also, the makeup varies depending on the time of the wedding. Light make up with pastel lipstick shades are best for a day function, where as for an evening ceremony you can add a bit of shimmer to your make up," says make up artist Moushmi Chatterjee.


Hygiene


You obviously know that there are more chances of food poisoning and other water borne illnesses during monsoon, right? So, ensure that you arrange for bottled water for your guests. Also, take a look at the place where the food is cooked. If the place has too many insects crawling around and flying, you can always ask the caterers to change the place.

Comfort
Oh, so you think since it's an indoor venue, there's nothing to worry about? Don't forget that an indoor venue can get quite stuffy and suffocating if it's not properly ventilated. So, do visit the venue a week prior the wedding to get an idea. And ensure that the venue has a couple of air-conditioners or good ventilation systems installed in place or you'll just end up torturing your guests at your reception. Also make sure that the place is spacious enough to accomodate your guests easily and doesn't look like a place packed with puppets dressed in their best finery.
Vipasha Pillai
Wills Lifestyle Casual Top For Women
Wills Lifestyle Casual Denim For Men
Pink Printed Tunic
Rs.1,395 ($28.98)
Rs.1,695 ($35.21)
Rs.2,135 ($44.35)











Ask our Experts :
Expert Advice, Personality, Immigration (US), Tarot, Hot Couture, Body Care, Matrimonial Laws, Sexual Health, Life, etc, Man vs Woman, Fitness.