Picture Perfect... Wedding Gifts


Art Not Just for Art's Sake.

Don't want to give money. Time is running short. The wedding is a week away. The couple is moving into a new home. They have everything... and probably don't need another microwave, or juicer. Look within - think color, think emotion... think art!

In these recessionary times nothing tugs at your heart like art. If you're flummoxed and don't know what to give the glowing bride and groom on their big day why not daub on some color therapy, a moment etched in the mind, or a masterful rendition of form.

Ebullient Artist Indra Prakash believes that giving art is better than gift money. ''Money is not a keepsake. Gifting art is not only a keepsake, but an investment. Also depending on the images selected it can be an auspicious and original gift.''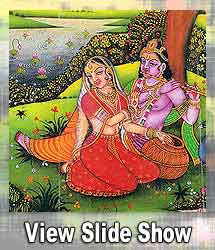 Indra has been a professional artist for fifty years and an Art Instructor in Mumbai for 40 years. She was trained under the auspices of her Guru; the eminent J.P. Singhal (b. 1934) considered one of the most respected artists in the India Art world and one of the most sought after artists of his time.

Singhal was hailed a silent maverick of his era and many art critics believe he was overlooked. Singhal is distinguished not only for his Contemporary style, but also his mastery of the Realistic School. "He felt that strong powerful feeling is a painting in itself and there is no need to dress it up with great detail and decorative grandeur." In his own words, "The hunger, the effort to see what you cannot see is at the base of his contemporary work."

Dos and Don'ts when gifting a painting as a Wedding Gift:

Dos:
Find out what the couple or the bride and groom individual have leaned towards. Do they like modern art, contemporary motifs, classic scenery or religious emblems?
Are there any particular colors' that the couple has a predilection towards? Also you can politely find out what type of China or other home décor they have registered at the Wedding Store in your area.
If you are unable to get any information on the type of interiors, standard paintings are usually 24 by 36 inches (canvas size) so stick with those. Oil and acrylic require minimum maintenance. Also earthy hues are the safest?browns beiges, ochre, rusts and complement any décor.
Do gift a Tanjore as they are ageless, timeless and are indigenous to Indian artistry and craftsmanship. Made with real Gold leaf they are an auspicious and appreciated gift.
Another wonderful idea would be an oil portraiture of the bride and groom. This would be a something that would be treasured for a lifetime.
Don'ts:
Select something modern and kaleidoscopic that you may just love. Remember paintings and art is as individual as the selection between mates. You may just love the post-modern cubic Ganpathi, but the bridal couple may not. You may want to compromise and may want to confer with Indra tapping into her expertise and experience
Buy anything too large unless you've checked with someone in the know like a relative of the couple or casually find out from either bride or groom their feelings about large paintings. Nothing worse than seeing your gift in the garage!

Note: Indra will be in the Atlanta area from mid-March and will take commission work for all types and sizes of paintings from the US-Canada. She is known for her realistic depiction modeled on the School of Realism from the Mogul Court of Akbar. Her forte is the whimsical oil and acrylic canvasses that can bring life to any space. She will also take commission for one-of-a-kind paintings in Tanjore, Guoache, water colors', Rajasthan ceramic and clay based work. Paintings take about a week to complete and delivery is guaranteed within three days in the US and Canada. Prices start at US $150.00 for water colors' (delivery charges not included).

Indra can be contacted at 001-678-305-9460 or on email at raga9@hotmail.com


Rohini Bhatia-Singh
Spykar's Denim Jeans For Women
John Players Signature Line T-Shirt for Men
Wills Lifestyle Casual Denim For Men
Rs.1,999 ($41.52)
Rs.1,899 ($39.45)
Rs.1,095 ($22.75)
Rs.1,695 ($35.21)











Ask our Experts :
Expert Advice, Personality, Immigration (US), Tarot, Hot Couture, Body Care, Matrimonial Laws, Sexual Health, Life, etc, Man vs Woman, Fitness.