Chimera - Silver That Lures


How often have you received a silver glass as a gift and wondered who you can pass it on to? And how many miscellaneous silver glasses and bowls do you have stored in your trunk?

Wouldn't it be wonderful if someone was to actually gift you a piece of silver that is not only valuable but also aesthetic?

That's exactly the sentiment that inspired the beginnings of Chimera. Says Kavita Harlalka, the lady behind Chimera, ''I was tired of people gifting me things I couldn't use. When my friends started getting married and having little babies I wanted to buy them a keepsake - which invariably meant silver. But I really didn't want them to stick the gifts in the attic and forget about them. I was keen to give something that they would appreciate and most of all - use!""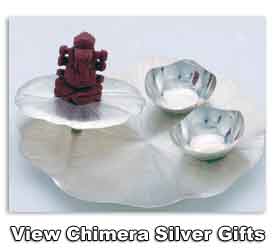 A quick look at Chimera's silver gifts and you'll know exactly what she means. Our personal favourite includes a gorgeous silver plate with a red Ganesha on it that can be used on festive occasions like Rakhi, Bhai Dooj and Diwali. We also love the Krishna bell that makes a wonderful gift and is very practical to be kept in the temple. And certainly, don't miss the silver 'Nimboo-Mirchi' the next time you want to keep the evil-eye at bay!

Chimera works with pure silver and uses other materials like glass, wood, onyx and marble to create silver gifts that are not just valuable but also exquisite and practical.

View more Chimera silver gifts

For purchase enquiries you can contact Kavita at sales@chimerasilverware.com


A shaaditimes feature
John Players Casual T-Shirt for Men
Spykar's Denim Jeans For Women
Wills Lifestyle Casual Top For Women
Rs.1,999 ($41.52)
Rs.995 ($20.67)
Rs.1,899 ($39.45)
Rs.1,495 ($31.06)











Ask our Experts :
Expert Advice, Personality, Immigration (US), Tarot, Hot Couture, Body Care, Matrimonial Laws, Sexual Health, Life, etc, Man vs Woman, Fitness.