Travel Tips For a Destination Wedding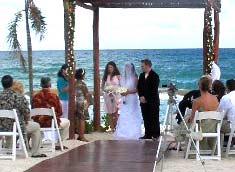 My sister's wedding was a destination wedding and believe me when I say that it turned out to be the most enjoyable wedding in the family, by far!

It's only at a destination wedding that you get to spend 2-3 days with your family and loved ones without having to worry about packing the kids off to school before the morning ceremonies, getting in a half day's work and then rushing about getting ready for the pheras, or even chasing the tailor for those last minute alterations to your wedding clothes!

At a destination wedding, the hectic running around is over and done with before you leave for the wedding, thus leaving you free to enjoy the celebrations to the fullest. So, when anyone says that destination weddings are a lot more fun, not just for the couple getting married but also for all those attending the wedding, well... no arguments there!


However, a destination wedding also entails a lot of additional responsibilities for those planning the wedding - travel arrangements for the wedding guests being the biggest of them. Thus, here are some tips that will ensure that your destination wedding is a huge success and your guests are well taken care of.

Making Wedding Travel a Success

Inform your guests well in advance: Your destination wedding may turn out to be a damp affair if your friends and family cannot make it for the nuptials. Thus, to ensure full attendance for the wedding, inform all the guests about the date and location for the wedding at least 2 months in advance. Also, let them know how many days they need to put aside for the wedding so that they can adjust their schedules and make travel plans accordingly.

Who pays: Depending on the budget for the wedding, you need to decide whether you will pay for your guests' travel expenses or they need to take care of it themselves. There are no hard and fast rules about this. You could pay for your immediate family and extremely close friends and let the other guests pay their own way or you could foot everyone's travel bill. Entirely up to you!

Generally, if the host pays for their friends and family members, here's how it works. They fix a date when everyone will leave for the destination wedding. All the guests are informed about the departure date and travel arrangements are made for them. The host thus ends up paying for all those who can make it on the scheduled date and those who can't travel with the wedding party they travel on their own.

Even if your budget doesn't allow you to pay for everyone's travel plans, as a host you should scout around for the best travel deals and for bulk rates, so that everyone's travel expenses are reduced.











Ask our Experts :
Expert Advice, Personality, Immigration (US), Tarot, Hot Couture, Body Care, Matrimonial Laws, Sexual Health, Life, etc, Man vs Woman, Fitness.

Copyright © 2023 Shaaditimes.com - A relationship and wedding portal by Shaadi.com. - All Rights Reserved.
Terms and Conditions