11 Must Have Travel Accessories And Gadgets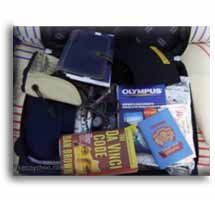 Add these to your packing list and you're sure to have a smoother trip.

Packing light is all about packing right. Sure we'd all like to carry all those travel gizmos, but space constraints are a real life situation that can be very frustrating. Even more annoying can be the ''I want to kick myself'' feeling that follows a near mishap for forgetting something as important as a universal plug adaptor. The key is narrowing down on a few essentials rather than carrying every gadget available out there and we've short-listed the 11 most essential items you must carry!



Cell Phone - Other than its obvious use, a cell phone acts as your personal entertainer with music storage features and an alarm clock; thus avoiding the lugging around of two additional devices. Don't forget the charger though.

Emergency Mobile Charger - You'd be even smarter to add the emergency mobile phone charger. They use standard AAA batteries and typically give you around 40 to 60 minutes of talk time with about four hours standby time.

Universal Plug Adapter And Converter - International travel means having to adapt to another country's way of functioning; including their voltage system. A voltage converter can solve this problem easily and enable you to use your electronic devices hassle free. Plug adapters vary in different continents. There are multiple configurations of flat and round pins. Hence a converter and adapter travel size set is an absolute must have!

Digital Camera - Going digital has given us the opportunity to take innumerable shots only to keep a few good ones. No more rolls of film to take care of and get developed on your return - only to find that most shots were focused badly. The huge storage card devices offer enough room for thousands of photos. However, remember that your digital camera might not work on regular AAA batteries. So pack your battery charger as well. We also recommend you carry an extra SD card in case you get carried away!

Travel Towel - A travel towel is made of super absorbent fabric and is extremely light. It dries quickly too, but doesn't weigh much when wet either. Some come with their own protective sack. They can fold so tiny to fit your pocket!

Swiss Army Knife - This time tested tool has been a traveller's friend due to its versatility. Most have scissors, a screwdriver, a nail file, a corkscrew, and of course a sharp knife and many more options depending on the model you choose. The Swiss army knives of today have some new features like LED torch lights, a pen and a USB key drive.

Money Belt - Travelling with a large amount of cash in your purse or wallet is not the best idea, especially in crowded tourist areas. A money belt, worn under your clothes is the safest way to go. Just keep small change outside, so you don't have to go reaching into it all the time! Some backpackers are known to keep their passport and credit card in their money belts as well.

Ziploc Bags - As lame as they may sound, Ziploc bags can come very handy in various situations. Whether it is to pack liquids like lotions and shampoos, or to put away dirty underwear, or a soiled swimsuit nothing beats a Ziploc.

Combination Locks - Ward off those pick pockets by having one for even your backpacks and your carry-on luggage. They're far more convenient than traditional locks since you don't have to keep track of the keys, just the digital combination that you've preset.

Hand Sanitizer - This one can be a saviour in those "sticky" situations. No elaborations are needed about how useful a tool a pocket size bottle of hand sanitizer can be.

Ear Plugs Or Noise Cancelling Headphones - Banish cabin pressure noise on flights and simply tune out those boisterous and loud fellow passengers in trains. Earplugs also come in handy when you're stuck in a hotel with construction around the area.
Remember, what might be essential to me, may not be essential to you and vice versa. Ear plugs may not be of concern to you. Maybe the slightest ray of light is annoying when you are trying to snooze; then consider carrying an eye mask. You cannot live without your entire collection of music plugged into your ears- well then don't ditch your I-pod at home and skip on something that is of lesser relevance to you.
Aarti Thadani
Printed Dry Milled Strolley Travel Bags
Printed Dry Milled Laptop Strolley
Premium Travel Stroller 22"
Rs.2,000 ($42.66)
Rs.6,790 ($144.84)
Rs.7,890 ($168.30)
Rs.1,075 ($22.93)











Ask our Experts :
Expert Advice, Personality, Immigration (US), Tarot, Hot Couture, Body Care, Matrimonial Laws, Sexual Health, Life, etc, Man vs Woman, Fitness.