Travel The World Indiana Jones Style!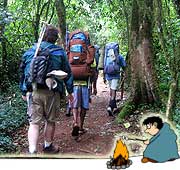 The latest Indiana Jones flick was so awesome that it made me want to actually live his life. Oh how I envy him his adventurous existence!

Not only does he get to travel to some of the most amazing destinations around the globe, but he also gets to beat up the bad guys and manoeuvre through those unbelievable booby traps. Talk about living life on the edge. Agreed, Indy is the product of an incredible imagination, but some of the things that he does in his movies can actually be done in real life too. So, come along on this ride with us where we travel the world Indiana Jones's style!

Snake Charm:
In all his three flicks, Indy had to face and overcome his fear of snakes. You too can interact with these slithering creatures in many places around the world. For the most adventurous, try the snake tours that Outfitter Asia Desk offers in Bangkok. You'll be among real snakes, some of them poisonous ones at that! The not-so-dangerous option - visit snake farms and see how the snakes are bred and milked for venom. You may even get to enter a snake pit or two. Locations - Phuket snake farm, Pasteur Institute snake farm (Bangkok), Kruger National Park (South Africa), Queen Saovapha Memorial Snake Farm (Thailand), Snake Sanctuary (Langkawi) etc.


Discover Egyptian Tombs:
Remember when Indiana discovered the Ark of the Covenant in Egypt in his movie 'Raiders Of The Lost Ark'? Oh what a thrill that was! If you're looking for the same kind of excitement, head to Egypt. The tombs of the pharaohs in Luxor and Egyptian Kings in Tanis are definitely worth a visit. Also, you can walk around the many Egyptian markets that still look like something right out of the old Indy movies.

Zeppelin Rides, Here We Come:
'The Last Crusade' saw Indiana and his dad trying to escape from Germany in a ship known as a Zeppelin. Germany still has a few of these Zeppelins and you can take a tour in them! These tours leave from a place called Friedrichshafen, which is located in the southern part of Germany, as well as from Stuttgart and Munich. Incredibly beautiful that Germany is, your Zeppelin ride is sure to be the high point of your trip.

Have Exotic Animal Parts:
Beetles, monkey brains, and snakes are what Indy feasted on in 'Temple Of Doom'. Ever wondered if you could eat such bizarre foods too? You can now find out when you tour places like Korea (roast silkworm, dog meat, and live squid), Hong Kong (snake soup), England (fried pig's blood, cow's intestines, sheep brain), Bangkok (grasshoppers, cockroaches, and all kinds of bugs), Laos (whole frogs) and a whole lot more. If you do manage to try any of these, do write to me and tell me how the experience was.

Closer to home...

Navigating Rope Bridges:
Although the magnificent rope bridge shown in 'Temple Of Doom' was part of a set, there are many places in India where you can cross over gushing waters and deep ravines over a flimsy looking (but tough) rope bridge. The Lakshman Jhula in Rishikesh is one of the oldest ones. You can also find rope bridges in Kasol (Himachal Pradesh), Nepal, and the Himalayas.

Dining With Royalty:
If you want to have a royal dinner with a Maharaja like Indy in 'Temple Of Doom', head to Mehrangarh Fort in Jodhpur. A lavish meal, exotic Indian dancers, and royal elephant processions - you get to experience it all. It could set you back by big bucks, but having your Indiana Jones's fantasies fulfilled will be worth every penny, right?

Ruchi Agarwal
Sony DCR - 285 Handycam
Strolley Travel Bag
Premium Travel Stroller 22"
Rs.24,990 ($533.06)
Rs.2,000 ($42.66)
Rs.18,990 ($405.08)
Rs.6,720 ($143.34)
Rs.1,075 ($22.93)











Ask our Experts :
Expert Advice, Personality, Immigration (US), Tarot, Hot Couture, Body Care, Matrimonial Laws, Sexual Health, Life, etc, Man vs Woman, Fitness.