Tips For Travelling With The In-Laws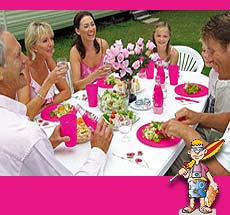 A family vacation does not have to be stressful and can actually be an opportunity to have some fun with the in-laws.

"I need a vacation after that doomed vacation!" exclaimed a mentally exhausted Rajiv. Before the vacation, Rajiv was not certain that one-week would be enough to enjoy all the sights and sounds of a new country. However, not more than two days into the trip he was itching to get back on that flight home. His in-laws were driving him completely crazy. He kept wondering what in the world made him agree to taking a family vacation!

However, not all family vacations are doomed. Here are some tips on how make sure you have a great family vacation.



Time frame - Discuss the number of days that you will be comfortable travelling with your in-laws. Be frank about it with your partner and plan accordingly. You'd rather be wishing you had seen or done one more excursion than be wishing you could throw them off the cruise ship!

Accommodations - Do yourself and everyone else a favour by booking two separate rooms - and make sure they are not adjoining. Get two rooms with a common door and they will expect it to be kept open for all but the few hours of sleep. Most elderly folk might object to two rooms under the pretext of saving money, but this is one item you just cannot be stingy about. A suite or vacation apartment is NOT a good idea. Just get a separate room!

Seating - If you are travelling by air try to get seats in separate rows. The ideal placement would be having them sit in the row just in front of you and your spouse. This will give the impression of everyone sitting together while not really doing so. Put the in-laws in front. It will save you from the constant nudging from behind.

Plan Activities - Spend some time on the Internet and read up on your destination in advance, look up activities that will interest everyone. This will equip you to pop up an idea or two when ma-in-law suggests a visit to the historical museum that you know will bore you to death. Finding things that meet everyone's list of must see will be difficult; so do not hesitate in suggesting that everyone should take one day off and do their own thing. Now don't go push your luck and try that too often!

Couple only time - Keep some alone time for you and your spouse only. While they may not understand the need to do this, it will benefit your in-laws to have some time to themselves too. Let your spouse announce that it will be just the two of you going to dinner tonight. Parents will not read that as being excluded from a plan if they are told by their child. Better still; buy them tickets to a show they might enjoy for another night (that gives you a bonus night away).

The meal deal - Take into consideration any special dietary needs of your in-laws while planning where to eat. Again, use the great tool of the Internet to look into restaurants prior to the trip. If there's a particular place that only you and your spouse would really like to try, save it for the couples' only night out. Some older folk are averse to trying cuisines that are very different from their own. In that case, target restaurants that serve multiple types of cuisines or visit food courts that give everyone freedom to choose.

Attitude - A little bit of change in attitude on your part will go a long way to make this trip stress-free. Try not to be too critical of your in-laws and just try having fun. Remember, it will mean a lot to your spouse to see one big happy family vacation.
Aarti Thadani
Premium Travel Stroller 22"
Strolley Travel Bag
Encore Travel Handbag
Rs.2,000 ($42.66)
Rs.1,075 ($22.93)
Rs.6,720 ($143.34)
Rs.1,299 ($27.71)











Ask our Experts :
Expert Advice, Personality, Immigration (US), Tarot, Hot Couture, Body Care, Matrimonial Laws, Sexual Health, Life, etc, Man vs Woman, Fitness.