Getting Ready For Your Honeymoon?
Here's a checklist for your trip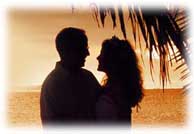 Today, honeymoons are often celebrated in places that are secluded and exotic, for that special and romantic feel. As if, while exploring your newly wedded bliss, you are able to explore the unexplored regions of the earth and a part of yourself...regions which are completely new to you, where you know no one else, other than your spouse. Such a fantasy-land could stretch from the mountains to the beaches, from the forest to the deserts! But, before you head-off for those heady days don't forget to flip-out through the ShaadiTimes checklist of essentials you should carry.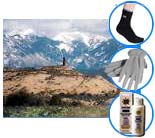 Mountains - Mountains and hill stations are favourite honeymoon destinations, specially if it is snowing! But, if you are going to the mountains, a bit of adventure is inevitable...a bit of skiing and trekking will surely come your way. However, do not forget to check the temperature and the altitude, of your destination, before you start packing. When packing, for a hill station or mountain, choose your wardrobe carefully and pay special attention to layering which could save you from a bulky packing nightmare, and leave you warm, and looking great.
As usual, the sun, is your enemy. Light, reflected off the snow, can still do you harm. So, remember to take your sun-screen lotion and don't forget your lip balm. Also, keep tissues and fogged glasses with you.



Quick list
Sunscreen - SPF 30 - 45
Moisturiser
Fogged glasses
Lip balm
Anorak hat
Snow pants
Bandanna
Snow boots
Fleece gloves
Fleece
Neck gaiter, scarf
Ski gloves
Mittens
Thermal socks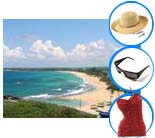 Beach - Like the mountains, beaches, are also high, on the charts, of most favourite honeymoon destinations. Today, beach honeymoons are not only about enjoying the sun and sand or taking a quiet walk with your spouse during sunset, but you can also chill out and pamper yourselves together at the spa. You can enjoy fun-filled water sports or can get close to each other in a bikini. Also, be prepared for all night parties with dancing and merry making. We recommend you carry some dressy outfits, for the evening wear, along with your cotton casuals for day wear.



Quick list
Sunscreen - SPF 30 - 45
Bikinis and swim suits
Sandals
Anti-fungal foot powder
Bandanna
Sun hat
Cool glasses
Casual cotton clothings
Walking shorts
Evening wear











Ask our Experts :
Expert Advice, Personality, Immigration (US), Tarot, Hot Couture, Body Care, Matrimonial Laws, Sexual Health, Life, etc, Man vs Woman, Fitness.

Copyright © 2023 Shaaditimes.com - A relationship and wedding portal by Shaadi.com. - All Rights Reserved.
Terms and Conditions