Riding The Formula 1 Circuit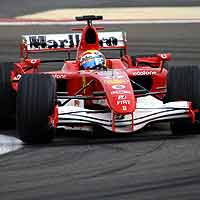 Bonding over sports is a great way to ensure that your guy has nothing to complain about. After all, what guy doesn't love a woman who knows her sport and is willing to travel the world for it?

The excitement of the F1 races, the twists and turns throughout the race (and we're not just talking about the course here!), and finally our very own F1 team thanks to Mallaya - all these factors have definitely helped to make F1 a very popular spectator sport in India. So for all you F1 men and women who cannot bear to miss even a single race, here's all the info you need to travel the F1 circuit year round!


The 2008 season has a total of 18 races, one more than what you saw in 2007. Believe it or not, there is no US Grand Prix this year (no kidding!). Instead, you'll see the F1 drivers battle it out on two whole new circuits at Singapore and Valencia, Spain. The first 8 races of the season have already been decided, so we'll just start with the ninth. The remaining F1 season will pan out as below:


| | | | |
| --- | --- | --- | --- |
| Race | Date | Race | Date |
| Great Britain | 6th Jul | Belgium | 28th Sep |
| Hungary | 3rd Aug | China | 12th Oct |
| Europe | 24th Aug | Japan | 19th Oct |
| Italy | 7th Sep | Brazil | 2nd Nov |


The 2008 season has some exciting surprises in store, the most thrilling of those being the first ever F1 night race! This race is scheduled to be run in Singapore.

Hotels and Packages:

Here is a list of some great hotels where you can book yourself and your sweetheart in when riding the F1 circuit. The hotels are not very far from the course and are good value for money properties.

France: Hotel de Bourbon Bourges
Great Britain: Victoria Hotel-Stratford
Germany: Holiday Inn-Mannheim
Europe: Melia Plaza - Valencia
Italy: Metropole Suisse-Como
Belgium: Dorint Novotel Aachen
Singapore: Royal Plaza on Scotts
China: Sofitel Hyland Shanghai
Japan: Park Hotel Tokyo
Brazil: Transamerica - Sao Paulo

You can get great package rates from online tour companies which include your hotel stays and race tickets. Some good bargains are to be found on gptours.com, formulatours.com, traveltours.in, and the official F1 website formula1.com.

Buying F1 tickets online:

Purchasing your own F1 tickets from the web and booking your airfare and hotels separately can sometimes get you a better deal than all-inclusive package rates. When buying your F1 tickets online, here's what you need to keep in mind:

Ensure that you have a valid passport as all the F1 races are held abroad. Most countries require a minimum validity of at least 6 months on your passport so make sure it's in order.
Book your tickets early to avoid disappointment as fans from across the globe rush to see the F1 races.
Hotel rooms can be quite hard to come by during the F1 weekend. So, before you buy your tickets, make sure you have your accommodation locked down.
Last minute bargains can be obtained from sites such as eBay and other auction websites. A lot of F1 fans procure their tickets early but cannot make it for the races after all. Instead of letting their tickets go a-wasting they generally auction them off, which means you could get a really great deal especially if it's really close to race day.

Don't miss out on the exhilarating F1 action. And if you decide to imitate the F1 women and gear up in sexy togs we're sure the action will continue long after the race is over!


Ruchi Agarwal
Printed Dry Milled Laptop Strolley
Encore Travel Bag
Encore Travel Bag
Rs.7,890 ($168.30)
Rs.2,450 ($52.26)
Rs.3,450 ($73.59)











Ask our Experts :
Expert Advice, Personality, Immigration (US), Tarot, Hot Couture, Body Care, Matrimonial Laws, Sexual Health, Life, etc, Man vs Woman, Fitness.