Make Your Next Trip A Camping Adventure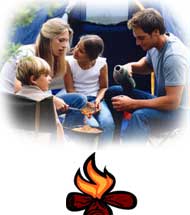 Picture this scenery: brilliant moonlight washing down on you and the stars twinkling brightly in the sky. The mellow flicker of campfires soothing you and the enticing scent of hot chocolate tickling your senses. The happy cries of your kids as they indulge in activities which they are otherwise not allowed. Yes, all this and more is what a camping trip is all about!

A camping holiday is the perfect getaway, which allows you to bond with your family while having the time of your life.

Planning A Camping Trip


Here's what you need to know when planning an exciting camping adventure:


Location: The location is perhaps the most important decision about this kind of trip. The first thing you need to decide is how far you want to go. Do you want to be within few hours from your home or do you want to go further for an extended holiday. Once you decide that, you have to make a shortlist of the camping grounds available to you. Great camping regions in India include Rajasthan, Rishikesh, Kerala, Himachal Pradesh, and Uttaranchal.

Specific camp sites in these regions are the hilly areas of Garhwal and Kumaon, sand dunes in Rajasthan, the backwaters of Kerala, Jim Corbett National Park, Chilla, Kaudilya, and Jaipur Pushkar.

Camping gear: If you leave something behind, you will have to do without it. The essential items that you have to pack include camping tent, sleeping bags, utensils for cooking, lantern, match boxes, toilet paper, folding chairs, torch, extra batteries, mosquito repellents to name a few.

Other than these essential items, you also have to make sure that your personal camping gear is in order. This includes - outdoor camping clothes, inner clothes (always carry a few extra pairs), comfortable pair of shoes, extra socks, sun glasses, and your personal toiletries. If space permits, you can also carry your ipods, a few board games, and a deck of cards. Although there will be plenty of activities to occupy you at a camping trip, it never hurts to have these items along too.

Camping activities: The usual activities that people enjoy during their camping adventures are trekking, white water rafting, swimming, fishing, kayaking, hiking, canoeing, cycling etc. However, not all camp sites offer all these activities. Thus, before you choose your camp site, you should send out for their brochures so that you can see what activities they provide you and then make your choice accordingly.

During The Camping Trip

If your camping adventure includes children, there are some precautions that you need to take to ensure that your children are safe. Here are some things to keep in mind:


If you do not know the camp site or if you're going to an unexplored one, it is best to hire a guide to show you around for the first few days at least.

Always keep your toddlers or younger children within eyesight. Older kids can be allowed to have some freedom, but they should always be within hearing distance. You should also earmark a location where children should go to in case they get lost or are distanced from the group. Give each child a whistle which they can use to call for help if required.

Dress the children in layers as it can get cold very fast at camping sites, especially if they are at high altitudes. If it is not so cold, they can simply remove the outer layers of clothing.

Dispose off all waste properly in dustbins and other allocated spots and also teach your children to do the same.

With a little respect for the outdoors and a great sense of adventure, you can ensure that your camping trip turns out to be the vacation of a lifetime.

Kavita Harlalka
Sony DCR - 285 Handycam
Strolley Travel Bag
20" Soft Trolley Bag
Rs.24,990 ($533.06)
Rs.1,450 ($30.93)
Rs.18,990 ($405.08)
Rs.6,720 ($143.34)
Rs.889 ($18.96)











Ask our Experts :
Expert Advice, Personality, Immigration (US), Tarot, Hot Couture, Body Care, Matrimonial Laws, Sexual Health, Life, etc, Man vs Woman, Fitness.