5 Biggest Business Travel Problems
And How To Avoid Them...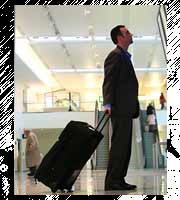 With the current state of the global economy, leisure travel has taken quite a significant hit. However, business travel is still booming.

Now more than ever, companies are sending their executives to various places all over the world in order to garner more business and open up new markets. More business travellers mean added travel problems.

Thus, if you want to have a successful business trip, here's what you can do to prevent the biggest business travel nightmares that entrepreneurs face.



Constant rule changes may cause you to miss your flight: Regardless of how often you travel, keeping up with the constant rule changes imposed by airlines can be a difficult task. For instance, there was no restriction on carrying liquids such as water, lotions, or creams in your carry-on luggage. However, most airlines today will allow to you carry only a small amount of liquid on your person, which too has to be packed in just one see-through plastic bag. Thus, such rule changes can cause you to get stuck in the security line and miss your flight.

Solution: Make it a point to check the airline's website for current rules and restrictions before you leave. A few minutes of effort can be the difference between missing your flight and making it.
Your flight has been cancelled but you need to get to your destination yesterday! Not only has your original flight been cancelled, but you are 20th in line for a seat on an alternative flight. You simply cannot miss that crucial client meeting. What do you do?

Solution: Always have the phone number of your travel agent and the customer service number of your favourite airline on speed dial. If you face a situation as described, immediately call them for assistance and ask them about the status of your original flight as well as tell them to put you on the next flight out to your destination. One phone call before all the other travellers rush for alternative seats can ensure you get a seat before anyone else does.
You are not getting the service you need because you asked the ticket agent / air hostess / flight attendant, "Do you know who I am?" These are words that no airline personnel like to hear. They don't really care who you are but are only interested whether you have a valid ticket or not. But you said those words to them, and are now receiving an extremely cold shoulder.

Solution: Please leave your 'self-importance' behind and try to deal with flight personnel with kindness and respect. Asking nicely will get you what you want or where you need to go much faster than throwing your weight around.
You have lost your only ID proof: Without a valid ID proof, not only will it be very difficult to board your flight, but you will not be able to rent a car once you get to your destination. So, it is vital that you always have your ID with you at all times.

Solution: Carry your ID proof around your neck as you do in the office. If that is not for you, then you should ensure that you have two valid ID proofs with you and keep them in separate cases and in separate bags. Thus, if you happen to lose one, you will at least have the other one with you.
Discussing business on the flight: Your business partner and you have been discussing a classified business tactic on the flight and you realize that your number 1 competitor has been sitting behind you all this while. He probably heard everything you talked about! What do you do?

Solution: Yes, it is only natural to discuss business when you're travelling for work with your colleagues. However, remember that walls have ears too and you never know who might be listening to you. Thus, wait for complete privacy before you start discussing vital trade secrets. If you must talk on the flight, ensure that you are discrete and soft so that you are not overheard.
Ruchi Agarwal
20" Soft Trolley Bag
Premium Travel Stroller 22"
Laptop - Travel Laptop Backpack
Rs.1,450 ($30.93)
Rs.2,000 ($42.66)
Rs.1,500 ($32.00)
Rs.889 ($18.96)
Rs.1,075 ($22.93)
Rs.599 ($12.78)











Ask our Experts :
Expert Advice, Personality, Immigration (US), Tarot, Hot Couture, Body Care, Matrimonial Laws, Sexual Health, Life, etc, Man vs Woman, Fitness.