The Babymoon Trend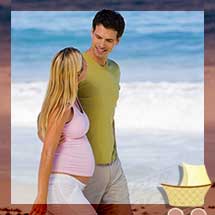 The prenatal trip that feels like you're on the moon, before the baby brings you back to earth!

Babies change our lives. A new baby impacts our sleep patterns, lifestyle choices and the way we travel. Backpacking in Nepal, guzzling beer at hip urban bars in London or attending theatrical performances in Paris can all be forgotten for a long time after the baby. And today's double income couples love to travel! The solution? A babymoon. A western trend that is gaining popularity in India now, a babymoon is a vacation taken by a couple that is expecting a baby. This is the last getaway before the endless sleepless nights.

We try to answer the when, why, where, how and how much about babymoons.


WHY? A holiday before the midnight awakenings for feedings and diaper changes sure seems like the perfect way to pamper the expectant mother and relax the frazzled nerves of the father to-be. It gives them a chance to bond as a couple before a life altering event, the birth of a new baby. This is their last chance to have an all adult vacation for a long time to come. Bottles, bibs, beach toys and sand castles indicate a different style of travel altogether. While first time parents to-be are more likely to go on a babymoon; it is not unusual for couples having their second or third child to plan one either. They probably need it more!

WHEN? Most couples plan a babymoon during the second trimester, when pregnant women are feeling their best. This is also the period that is medically safest for travel during pregnancy. You could plan to take a short road trip to a resort close by even in the beginning of your third trimester. Be sure to check with your doctor, before you plan any trips in the third trimester.

WHERE? So long as it's a healthy environment and the physical activity involved does not exceed the limits discussed by your doctor, any destination works well. Most popular choices for babymoons are spa or beach resorts. They let you reconnect with each other in a relaxing atmosphere. But if the two of you prefer to tour a big urban city, give it a shot. Take in the sights and experience the culinary delights. You could travel internationally, but you probably want to avoid very long journeys that might involve too much travelling. Those who already have a toddler they might be leaving behind with the in-laws could book a fancy suite in a resort in the very same town! The idea is to take a break and feel pampered just before the arrival of the new baby.

HOW long? HOW much? A babymoon could be a week long holiday or just a weekend getaway. Your schedule and budget will be the parameters to determine that. A cruise will cost you more while a weekend at a hill station nearby will not make a hole in the wallet.

Babymoon Travel Tips:
Make sure there is a reputable medical facility in the vicinity of your hotel or resort.
Always carry the contact numbers of your gynaecologist and family physician. Inform them about your travel plans and request cell phone numbers if possible.
For plane travel, advise the airline of the pregnancy and check if they have any restrictions. Some airlines do not allow travel 32 weeks beyond the pregnancy and some require a doctor's note on international routes no matter how far ahead you are. Try to book front row seats or bulkhead seats as those have maximum leg room.
In case of a cruise, check with the cruise line in advance to ensure that a medical professional will be on board. Ask your doctor what medication might be safe to combat seasickness. Cabins located in the center of the ship and on lower decks are advisable for those who prefer less motion and might be seasick. A bigger cruise ship, i.e. a larger vessel is a wiser choice.
Frequent stops are a good idea on a road trip. Walking around every hour or two will help avoid stiff muscles and promote blood circulation. Bringing a few extra pillows might help.

Remember, the key is to relax and enjoy yourselves. And don't worry, post-baby trips are fun too, just a different kind of family fun.


Aarti Thadani
Kodak Digital Camera M 863
Premium Travel Stroller 22"
Encore Travel Bag
Rs.8,999 ($191.96)
Rs.2,000 ($42.66)
Rs.7,999 ($170.63)
Rs.1,075 ($22.93)
Rs.2,450 ($52.26)











Ask our Experts :
Expert Advice, Personality, Immigration (US), Tarot, Hot Couture, Body Care, Matrimonial Laws, Sexual Health, Life, etc, Man vs Woman, Fitness.