Umaid Bhavan Palace
A Royal Indian Wedding Destination!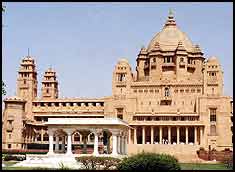 Getting married is one of the most significant milestones in a person's life. No wonder then that most people want it to be as memorable occasion as it can be. A beautiful wedding complete with palatial accommodations, mouth watering cuisines, wedding ceremonies fit for kings and horse drawn chariots, where the handsome groom arrives to whisk his bride-to-be into their very own happily ever after - sigh... that's the stuff dreams are made of. Fortunately, you no longer need to be of regal descent to have a princely wedding. An Indian destination wedding at the Umaid Bhavan Palace in Jodhpur can make you feel like royalty and how!


Getting Married At Umaid Bhavan Palace, Jodhpur

Flanked by more than 26 acres of lush greenery and majestic lawns all around, the Umaid Bhavan Palace has been the chief residence of the royal family of Jodhpur since 1943. Today, you can plan your own wedding at this Royal Palace and create a treasured memory to last you a lifetime. Whether you're planning a lavish wedding with hundreds of guests, or a small private affair with just family and close friends, the Umaid Bhavan Palace is the perfect location!

Here's what you need to know to turn this dream into a reality:

Wedding Accommodation: Traditionally decorated with all the modern conveniences, the various rooms and suites in the Palace Hotel provide you with more than ample accommodation for your wedding party and guests. The Royal Maharaja and Maharani Suite can be reserved for the bride and groom so that they can revel in the lifestyles of the kings and queens!

Locations: The Palace offers you a choice of 3 halls to host your wedding:

The Rathore Durbar Hall: Perfect for the wedding reception as well as glittering celebrations, this grand hall is more than 4400 sq ft in area and ideal for large weddings.
The Marwar Hall: This was originally the Royal Reception Room, which is now converted into a glorious venue for smaller wedding ceremonies and parties. Live instrumental music available in this hall adds its own unique charm to the festivities.
The Chamber of Princes: This smaller hall (area about 1000 sq. ft.) is ideal for small weddings or for the various ceremonies and functions that are an integral part of Indian weddings.











Ask our Experts :
Expert Advice, Personality, Immigration (US), Tarot, Hot Couture, Body Care, Matrimonial Laws, Sexual Health, Life, etc, Man vs Woman, Fitness.

Copyright © 2021 Shaaditimes.com - A relationship and wedding portal by Shaadi.com. - All Rights Reserved.
Terms and Conditions