« continued from previous page


Kerala
A huge necklace of lagoons, lakes and rivers!

In the Periyar forest is one of the finest wildlife reserves in India, and spread across the entire district are picturesque plantations and hill towns that hold great opportunities for treks and mountain walks.

Places to visit
The Periyar Wildlife Sanctuary, The sanctuary watch towers Places around Thekkady are Kumily (4 km from Thekkady), Pandikuzhi (5 km from Kumily), Murikkady (5 km from Thekkady), Mangala Devi Temple (15 km from Thekkady), Vandiperiyar (18 km from Thekkady),Pullumedu (26 km from Periyar), Peermede: (44kms from Thekkady).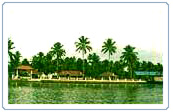 Alleppey
Washed by the silvery waves of the Arabian Sea, occupies a significant place in the tourist map of Kerala. Interlocked with a large number of canals and bridges, this waterlocked district cannot be missed. It is better known as the Venice of the East. Alappuzha or Alleppey, a centre for coir and carpet industries is an ideal headquarters for backwater touring. It has a long sandy beach, which is spectacular. At one end are the dense palm groves that are so characteristic of Kerala's landscape.

Places to visit
Krishnapuram Palace, Kottamkulangara Mahavishnu and Devi Temple, Mullackal Rajarajeshwari Temple and Punnamada Kayal.
Places around Alleppey: Ambalapuzha, Karumadikkuttan, Arthunkal (Pilgrim Centre).

Philips Electric Shaver - H6675
Bonanza Travel Bag
Strolley Travel Bag
Rs.580 ($12.37)
Rs.3,595 ($76.69)
Rs.389 ($8.30)
Rs.6,720 ($143.34)











Ask our Experts :
Expert Advice, Personality, Immigration (US), Tarot, Hot Couture, Body Care, Matrimonial Laws, Sexual Health, Life, etc, Man vs Woman, Fitness.