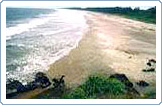 A slender green sliver of land clinging to the south western flank of the Indian peninsula, Kerala is one of the southern states of the Republic of India. Kerala is made up of fourteen districts. Each of them have a distinct character. Thiruvananthapuram (also known as Trivandrum) is the capital of Kerala, famous for it's Kovalam beach (rated one of the top ten beaches of the world).



The complex network of lagoons, lakes, rivers and canals fringing the coast of Kerala forms the basis of a distinct regional lifestyle, and travelling by boat along these backwaters is one of the highlights of a visit to the state. The boats cross shallow, palm-fringed lakes studded with Chinese fishing nets, and along narrow, shady canals where coir (coconut fibre), copra and cashews are loaded onto boats. The most popular backwater trip is the eight-hour voyage between Kollam and Alappuzha, but most of your fellow passengers on this route will be Western travellers. If you want a local experience, or you simply feel like a shorter trip, there are local boats from Alappuzha to Kottayam and Changanassery.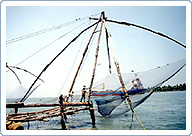 Cochin
An old trading port of the yesteryears, it is a town where temple and Mosque, Church and Synagogue are an integral part of a lifestyle.
Cochin and Ernakulam twin cities combine to create Kerala's busiest metropolis.

Places to visit
Dutch Palace, Bolghatty Island, St. Francis Church, Chinese Fishing Nets, Parishath Thamburan Museum and the Museum of Kerela history.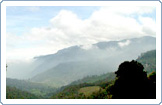 Munnar
About 130km east of Kochi, is the centre of Kerela's principle tea growing region. The town enjoys a refreshing climate, with crisp winter morning and relentlessly heavy rains.
Places to visit
Christ Church, 16kms from Munnar Eravikulam Dam, Mudapetty Dam and Dairy farm and Anamudi (2695) South India's highest peak.
Thekkady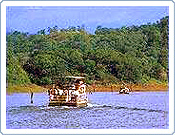 Periyar (also known as Thekkady), one of world's most fascinating natural wildlife sanctuary, where you can watch wildlife at close ranges. The very sound of the name conjures up images of elephants, unending chains of hill and spice scented plantations. Here, in the crisp, cool air of the Western Ghats you will experience the most enchanting holiday.