Promises to keep
To keep other's happy keep oneself happy first


Great article and hats off to the writer to bring up this subject. No, I personally don't think anyone should give up their love for a dying person's whims. I strongly believe that God has created this very special feeling of love for us to experience in our lives. To lose this precious "Love" out of your life, not only makes you lonely and depressed, but can also lead to resent, frustration later on in life. It may also control your behaviour and moods to a great extent.




Cherish your love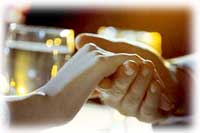 Love is to be nurtured, cherished and treasured, it's not meant to be lost or given up for someone who doesn't know what falling in love is like. Our parents and elders have experienced an arranged marriage in the earlier society and believed love before marriage as something impure and against family values. It's high time we the 21st century generation realize that love is nothing impure but something that makes you perform better in every aspect of life with happiness in everything you do.


Besides making a promise to a person on his / her deathbed to give satisfaction is perfectly alright, but then think of it this way, that promises made against one's own happiness have a validity period on them. They also expire in due course of time. If you don't break them they will break you.

Live Your Present
I also believe that after life, God takes full care of the soul that resides within your body. That soul's happiness, contentment, wishes, well-being is all the responsibility of the All Mighty, so please let him do his job and stop interrupting in God's work. Even in Baghvad Gita we have been taught "Birth & Death are in My (Gods) Hands" and your work is "Do Your Karam". Karam teaches you to live in the present, forget what's gone and never worry about the future! So guys buck up, forget the past promises as your elders are in the very safe hands of the All Mighty. Live your present and make sure that those who are living are not hurt by you in any way, specially those who love you. The dead cannot get hurt by what you do now as they know nothing of what's happening on bhulok (Earth). They are somewhere safe in their own world under the divine blessings of the creator, so stop worrying about hurting them.

Generation Gap
Finally, to close this note, family and parents love you very much, no doubt about it. They will always think for your good, under any circumstances, but be reminded of the fact that there is something called "generation gap" between you and your parents. That gap comprises of what your parents think is right for you and what you think is right for you or what you want to do. There are a lot of times when the parents don't understand, why is it so difficult for us to give up loved ones even though we just know them for a while, this is because our parents have never had the chance to experience love before marriage and after marriage; they were taught to love their spouses irrespective of whether they liked it or not!

There are many such things that our parents have not experienced before and that we are experiencing now because of the development of the world to a better tomorrow, so does learning those new things makes us wrong or does it mean that our parents need to be made aware of the changes around the world so that they can better understand us and our needs?

To build the bridge between the two is up to us - those who give up love for the sake of death whims or parents pressures are not trying hard enough to build the bridge between the generation gap. Those who are trying, please try harder. After all, all your parents want is your happiness. If you listen to them now thinking that you'll remain happy later that's a false promise that you are making to yourself because you are just doing it to make your parent happy at that point in time.

Don't give up your love
Remember the most hurt will be your parents because then they'll hold themselves guilty the most for asking you to give up on your love in the first place. Be a good son / daughter and make them understand. It is up to you to explain them what you are happy with the most. It may get rejected time and over again and again, but at the end of it all, my dear friend you will appreciate your result and this friendly advice.

Don't give up on your love - it's the most beautiful feeling that can happen to anybody in life! Fight for your happiness and your love because in the end you will notice that not only you, a lot of other people are a lot happier as well.

Remember: The secret to keeping everyone happy is to keep oneself very happy first! So go for it, why wait till matters get worse and uncontrollable!


Tina
Wills Lifestyle Casual Top For Women
John Players Signature Line T-Shirt for Men
Spykar's Denim Jeans For Women
Rs.1,999 ($41.52)
Rs.1,495 ($31.06)
Rs.1,095 ($22.75)
Rs.1,899 ($39.45)











Ask our Experts :
Expert Advice, Personality, Immigration (US), Tarot, Hot Couture, Body Care, Matrimonial Laws, Sexual Health, Life, etc, Man vs Woman, Fitness.