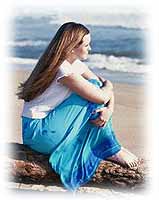 Infatuation can last for years... I remember having a crush on this tall, dark and handsome guy when I was studying in Modern School... He was for me, at age 17, the epitome of good looks, brain, charm personified. I had an ongoing infatuation with him for 3 years.... My fantasy came to a standstill when this guy, drunk made a move on me, in the hot-and-happening nightclub of those days, Ghungroo. Today he is married, but still does eyeball women, me in special. I of course gave him a ringing slap way back then... and moved on. Since then I have had a string of crushes, just one-two materialised into serious stuff. And now none. I have come to realise that you HAVE to mate with the mind, the heart rules, yes, but logic has to rule. The most boring, staid, dull guy can be a great life partner. We all live in a Mills & Boon world where anyone can be "Knight in Shining Armor" so to speak....



Infatuations normally happen where there is a major element of chemistry, vibes, karmic bonds, attraction with looks / persona. Here is my version of what I feel is Infatuation.

Distinct line between love / infatuation - love means being able to sacrifice / compromise to provide harmony / trust / do stuff for each other / listen / share... Love can change its colors at all times, but normally lasts unless drastic stuff happens.

Childish infatuation - Hrithik Roshan, Leonardo Di Caprio - Chocolate hero looks, reliability factor, innocent sexual appeal. Usually lasts for few months... idol worship. Older guy - superman, promise of being secure in his arms. Lasts few months / year maybe.

Teen Infatuation - Role models would have - piercing / tattoos, bikes / recklessness / grunge appeal - usually promises good physical intimacy, drunken brawls, false machismo / bravado, lives life in full throttle but fails to deliver on time usually, aspiring coke head.

Promise of secrecy, mystery element always appealing, usually lasts few months, years if serious, turns into bad relationship if not handled well.

Adult infatuation - Older guy - Role model type - George Clooney / Akshay Kumar - Suneil Shetty / Harrison Ford - Promise of reliability / good looks - charisma + tender loving care - always appealing to older women, for the simple factor that all women are looking for security now.