What if Mr. Right turns out to be Mr. Wrong?


Read the emotional story of a girl whose life changed after one such experience

It all happened last Thursday
Last week, my life changed. Not in the Buddha "enlightened" way, but in a way that I will never be the same Jalpa I was, last week. My father, the humble and religious man that he is; always told me; be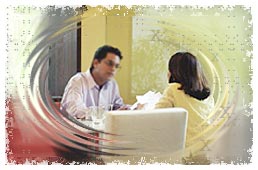 truthful, be yourself and believe in GOD. My parents never asked me for much: 'Just be good,' they say... and I tried to comply.

Practically every person who knows me would describe me as "Ambitious, Confident, Outgoing and Friendly". If some of you beg to differ, I assure you that you are a minority. I have always taken pride in the fact that I am an honest and frank Scorpion woman for whom black is black and white is white.


However, all this suddenly changed for me last Thursday.

Like any other Indian parent, my parents are also very keen that I settle down and start a family. And unlike a lot of other Indian parents, the Merchants have been kind enough to let me be choosey and make this decision on my own with all their support.

Meeting Mr. X
Last Thursday, I met one of my prospective grooms. For the sake of convenience let's call him X. X drove down from a city nearby, for meeting me here in the Big Apple, as he anyways had a wedding to attend in the City and could squeeze in some time for me. A series of plans that were made, cancelled and re-made, (all on his end), not to mention after a lot of complaining about the weather, X was finally able to trek up to the East Side, for meeting me at my place.

He came over to my modest studio apartment, and after we got over our initial awkwardness of a first meeting; we decided to go get a drink at a local bar. Although the idea of a Local Bar is a bit un-conventional for an arranged marriage-first meeting, I went ahead with it. I am after all, a 25-year-old career woman, living in Manhattan; a drink would do no harm and would certainly be okay!!

A short walk and a few pleasantries later, we made it to a cute little Irish pub on the Upper East Side of Manhattan and sat comfortably at the bar and ordered Frozen Margaritas (They even had a great deal... 2 for $10!!) and some spicy jalapeno peppers. The Margaritas were great, but not the conversation!! What started off with Cricket, Music and Siblings started veering off towards a whole new direction; ME!! Not a good me; a BAD ME!

First Impressions:
This stranger whom I had met for the first time in my life and had spoken to, twice earlier, suddenly felt that he knew me well enough to write a thesis on me, (which would have been alright with me had I not been aware of it!), but he decided to read that thesis out aloud in my presence! Suddenly this man looks into a woman's eyes and asks her "So, are you ready to go all the way into a marriage, because I don't think you are?" That woman was me; someone who knows exactly what she wants. Be it a pair of shoes, a winter jacket or a Husband!! "Are you talking to me?" I asked. "Yes" said X...and went on to explain why he had decided to make that comment. The explanation was simple; I was good looking (Thank You), I was friendly (Thank You), outgoing (Thank you again), I have a lot of confidence (wow this is good!!) and pretty much everything a man looks for in his wife! (So what's the catch, you ask?), here it is: A combination of all this is NOT GOOD. Having all these traits made me a person he thought could not be ready for marriage. (Yes!! He said this to me in the first hour of our first meeting!!)

Despite the initial shock, for this kind of a judgmental behavior from X, and being the reasonable person that I am, I gave him a second chance. After a brief lecture to X, that I am, infact ready to tie the knot, but only with the right person, I decided to meet him one more time. He promised to take back everything that he said and start afresh with no pre-conceived notions about me.













Ask our Experts :
Expert Advice, Personality, Immigration (US), Tarot, Hot Couture, Body Care, Matrimonial Laws, Sexual Health, Life, etc, Man vs Woman, Fitness.

Copyright © 2019 Shaaditimes.com - A relationship and wedding portal by Shaadi.com. - All Rights Reserved.
Terms and Conditions