The art of communication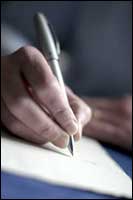 Ever since the evolution of mankind all human beings are in constant search of happiness and solace in their lives. Eminent writers ,thinkers and religious heads have been emphasizing on various aspects of life wherein a person may lead his life with greater peace and happiness.

For making our life peaceful and happy we have to control our mental attitude -- to control all circumstances which affect our life. We cannot control the thoughts or actions of other people but we do have the privilege of controlling every thought we release from our minds.



It was "Lord Buddha who said ,you are the master of your unspoken word - The spoken word is master of you - Refrain from hurting others."

Be careful with words
So how do these hold any significance on a matrimony site. Well one thing I've learnt the hard way is that we have to be extremely cautious while choosing our words,framing our thought process before penning down a reply - what effect it would have on other person if I were in his / her place because it's the way we write, communicate which has profound effect on other person; marriage is such a sensitive/delicate issue.

Sometimes we are trying to write something but we cannot express properly; sometimes you need to clarify certain issues but how to ask? You see our mother tongue is Hindi but on these sites you have to express yourself in English, even having had lovely education I'm in dilemma sometimes to inquire certain issues; I've committed mistakes in framing words and in process even before a relationship starts it is doomed a failure though you feel that you can get along with this person but wrong communication creates blunder and in process you lose a good woman / gentleman.

As research proves that a man uses his left hemisphere of brain more, concerned with the arithmetic of life; and woman use the right side; concerned with the poetry of life; so better we be careful in communication but then as one person wrote "I'm looking for someone who can communicate with me, without wondering how I would react to her and someone I can communicate with without wondering how she would react to me" Wonderful lines if everyone could be so simple and take words as they are and not twist and turn words around.

But then they say "Marriages are made in Heaven"; so may be whoever is meant for you is meant for you... Till then the search goes on....


Anju
Applique Work Stripes Kurti
Wills Lifestyle Casual Denim For Men
Spykar's Denim Jeans For Women
Rs.1,380 ($28.67)
Rs.1,999 ($41.52)
Rs.1,200 ($24.93)
Rs.1,695 ($35.21)
Rs.1,899 ($39.45)











Ask our Experts :
Expert Advice, Personality, Immigration (US), Tarot, Hot Couture, Body Care, Matrimonial Laws, Sexual Health, Life, etc, Man vs Woman, Fitness.