5 Ideas For Romancing In The Rain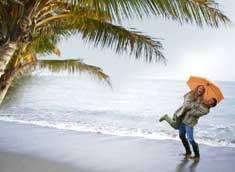 The first grey clouds, a strong breeze, the call of the cuckoo... the Indian monsoon rolls in, to be welcomed with sighs of relief from citizens languishing in the heat of a fiery summer. This is also the time when romance demurely raises her head in the hearts of those struck by Cupid's arrow. Here are five ideas for monsoon dates that are sure to melt the heart.
Rain watching: There's probably nothing better than snuggling indoors during a thunderstorm. Pour out some hot chocolate, grab a couple of warm shawls, and settle down by the window with your loved one to watch Nature at her best. This could be a great opportunity for some quality time and engaging conversation without the interruption of the phone or the television. A little surprise gift would make things all the more interesting.

Leisure walks: Clichéd though it may sound, a walk down an empty, rain-washed promenade under a single umbrella has often been the top choice for a monsoon date. A long spell by the sea face, armed with some steaming street food to share, often leads to friendly, playful bonding. However, this idea may be feasible only if either of you live close to the sea, unless you wouldn't mind a drenched trip back home.

Breakfast-in-bed: If you are married, or in a live-in relationship together, sneak out of bed early on a cold and wet morning, and prepare a lavish breakfast to be savoured in bed or on a sheltered balcony. Decorate the tray with some delicate fresh flowers and a love note-for a personal touch-and watch the surprised look and delight on your lover's face!

Outdoor activities: Couples with a streak of adventure in them might want to consider a trek to a nearby hill or secluded park, followed by a picnic lunch under a large beach umbrella. This will call for some spontaneous preparation, including perhaps playing hooky from work, as you will want to choose a day that is not too stormy. An invigorating walk in a fine drizzle might just prove therapeutic for those who want to get away from the daily routine.

Get classy: Guys, take heed-a candle-lit dinner, with soft music and some wine, is known to warm up the cockles of the heart, even as the thunder crashes outside. Send out a formal invitation to your lady, indicating an RSVP. Then, dress your best and fetch her in style, bringing her to an evening of slow dancing to your favourite tunes, a delicious meal, preferably cooked by you, and, if you can splurge, a sparkling piece of jewellery in her dessert. What better way than this to declare your love?
Rhea Pinto
Classic Combo
Fastrack Watch For Men
Fresh Fruit Cake
Rs.1,733 ($36.00)
Rs.1,095 ($22.75)
Rs.899 ($18.67)











Ask our Experts :
Expert Advice, Personality, Immigration (US), Tarot, Hot Couture, Body Care, Matrimonial Laws, Sexual Health, Life, etc, Man vs Woman, Fitness.