7 Rights every Husband should have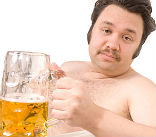 Beer, burps and babes! Some things every husband has a right to...

We, the Husbands in India, have the right to:

Be extremely busy at work when your mother comes over! Ok, we know it's not going to happen every time the ma-in-law comes over, but at least once in a while can we call in 'busy' and not be around when your mother is. You may think your mother is being subtle when she talks about her friend's daughter's husband and how well he's doing for himself, but she couldn't be more obvious even if she tried!

Watch our cricket matches in peace. At least the major ones. We know you cannot fathom why we behave like irrational fools when Dhoni's Super Kings are beating the heck out of SRK's Knight Riders, but it would be really cruel to not let us 'support' our teams. And now with the T20 format becoming so popular, you'll only have to put up with the craziness for 3 hours!

Hate the husbands of your friends. Ok, like you said, hate may be too strong a word. But just as you reserve the right to dislike our male friends, we too want the right to dislike your friends' husbands or significant others. We don't really have a problem with your friends but when their moron partners go on about how Sachin should retire gracefully from the game and that he isn't a good cricketer, well that is just more than we can handle!

Have an occasional Boy's Night Out. We'd like the right to have at least a once-in-a-blue moon night out with the guys without having to hear the 'you're not a bachelor anymore, you do have a wife and kids you know' argument. In turn, you too could have a girl's night out with your friends. And not just the occasional one, the more the merrier!

Teach our kids some guy stuff. Burping, farting and whistling included. Being weird helps us to bond with our kids, even if you don't get how. And don't worry, we'll keep these 'gross' lessons only for our sons and will spare the girls - except then we'd probably get accused of gender discrimination.

Spend our Sundays at home being a couch potato and doing nothing else. Please don't have us go shopping, or visit your relatives, or tag along for your cousin's kid's birthday party, or do anything that involves moving too many muscles on a Sunday. It is the one-day of the week that we get to relax and we want to spend it doing just that. Oh ok, if all 4 Sundays in a month is asking for too much, at least give us the 2nd and 4th Sunday off!

A 'quickie'. Yes, we do understand that women love romance and want to be wined and dined. The whole flowers, chocolates, candle light dinners, and romantic lovemaking sound good to us too, but does it have to be so elaborate every time? Is it not possible to get in a 'quickie' every now and then without the romantic trappings? And believe us when we say - do this one thing for us and we'll practically be putty in your hands. How about that!


click here to read "7 Rights Every Wife Should Have"



A shaaditimes feature
Cuban Crunch
Encore Ladies Handbag
Photo Pillowcover: Pink
Rs.525 ($10.91)
Rs.899 ($18.67)
Rs.3,250 ($67.51)
Rs.475 ($9.87)











Ask our Experts :
Expert Advice, Personality, Immigration (US), Tarot, Hot Couture, Body Care, Matrimonial Laws, Sexual Health, Life, etc, Man vs Woman, Fitness.