7 Rights Every Wife Should Have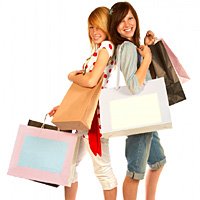 Marriage is still considered to be a sacred institution in India, an institution which the majority of Indians still believe in. And although Indian women of today no longer need to get married just because they have reached a certain 'marriageable' age, we do like being married to the men of India (for the most part!)

However, there are certain things that we believe we have the right towards. And since having these rights would make for a stronger marriage, here's what all husbands need to know about their wife's rights!

We, the wives of India, have the right to:



Go out every once in a while without the mother-in-law! C'mon guys, you have to admit that Indian men are mama's boys. And while we know that there isn't much we can do about that, how about planning at least the occasional Sunday movie and dinner without involving the entire family?
Hate your guy friends! Ok, maybe hate is a very strong word. We'll settle for dislike instead. We know you have a right to be with the guys, but do you have to call your friends over so often? If it's a once-in-a-while thing we can be accommodating, but you can't always expect us to be happy especially when the house looks like a tornado ripped through it once your friends leave. Next time, head to the pub!
Watch as many Bollywood flicks as we want... even the ones that don't have a recognised star cast and no one in their right mind would want to see. It's not always about the movie per se, but sometimes just an excuse to get out of the house.
Deal with PMS in our own way! Until you have experienced PMS, you don't have the right to tell us how to deal with it. Don't expect us to relax and don't ask if it is PMS every time we shout, scream, or act unreasonable. If you do want to help, be extra kind for those 2-3 days every month. Even simply giving us some space will help tremendously!
Chat with our friends, sisters, and mother every day! My husband can't understand what I talk to my sister, mother, or friends about every single day, for hours on end. We talk about anything and everything under the sun. This includes gossiping, giving and getting advice, and yes also talking a lot about the men in our lives. Take away this right and be prepared to have an unhappy, insane lunatic on your hands. And if we're not on the phone, we'll probably be on your case. The decision is yours!
Have innumerable little bottles of girly stuff. Stop complaining about the lack of shelf space in the cupboard or the lack of counter space in the bathroom. We girls need our tools too, you know! And just for your information, that bottle of body lotion or bar of cocoa butter soap may look small but lasts us for weeks on end. And since our stuff is exorbitantly expensive, stay away from it as we do not appreciate it when you finish off a whole month's supply with a single use!
Foreplay and the big 'O'! Coming home with a bouquet of roses, complimenting us, murmuring soft words of love, cuddling, kissing, and then making love - that is the correct order of things and not directly moving on to sex. Foreplay is equally important as sex, if not more. Also, do take the time and effort to make sure we have achieved the big O. Pleasing us will please you that much more!



Also Read: 7 Rights Every Husband Should Have



Ruchi Agarwal
Chocolate Fudge Walnut Brownie
Fastrack Watch For Men
Cuban Crunch
Rs.701 ($14.56)
Rs.1,095 ($22.75)
Rs.899 ($18.67)











Ask our Experts :
Expert Advice, Personality, Immigration (US), Tarot, Hot Couture, Body Care, Matrimonial Laws, Sexual Health, Life, etc, Man vs Woman, Fitness.