Pressurized marriages
How harmful they can get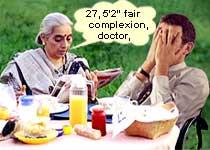 Rajesh is a 30 year old Chemical Engineer from IIT. He has a prestigious job and is very intelligent. He is a workaholic who has no time for romance and doesn't want to tie the knot till he's at least 32. His parents constantly tell him, "IIT grooms can get many proposals just if you let us advertise in the newspaper matrimonials but at the rate you are getting taklu (bald) pretty girls soon won't want to marry you. Besides you are our only son and we want grandchildren soon. But you have to marry a fair homely Brahmin Gujarati girl chosen by us. We heard from your friends that you are open to marrying outside our caste / community - we will never allow that." Rajesh has however refused to enter into any pressurized engagement.


Chetan, an NRI was forced to break-up with his American girlfriend of four years to marry a traditional Indian girl chosen by his parents. Chetan did try hard to make it work with his new wife Maya but they were totally incompatible and trapped in an unhappy marriage soon ending in a bitter divorce. Chetan now avoids meeting his relatives and going to Indian parties as people will ask him inquisitive questions about his divorce. His ex-girlfriend has moved on with her life and is now married to someone else. Maya has returned to India and is ostracized by the people of the small Indian town she hails from.

Why are youngsters pressurized into marriage in India?
Says, 24 year old Preeti, "In India marriage is generally considered to be a bond between two families than between two individuals. In a country where mainly arranged marriages prevail with the assumption that love comes after marriage. That doesn't happen all the time, the person may totally dislike the person chosen by his / her parents and later on find that he / she is not able to adjust and go on living unhappily, separated or finally getting a divorce."


Fashion photographer Dabboo Ratnani says, "A friend of mine has been given the deadline of a few months to get married. He is not against marriage but is really disturbed by this deadline. He is open to getting married once he finds someone compatible and would ideally like to know the girl for a while before he commits. He's trying to meet as many girls as possible hoping he finds his soul mate within the deadline set by his parents. My marriage was 50% arranged and 50% love. I met my wife Manisha through an arrangement but we did not get married instantly. We spent a year getting to know one another and married only after falling in love. I got married at 32 and my parents weren't the least bit pushy."

Both men and women in India are under family or societal pressure to get married. Generalizing a man is expected to get married as soon as he is financially settled to sustain a family and a girl has after completing her required education that may be defined by her family in terms of gaining a school leaving certificate / graduation / post-graduation. The fact that marriage may not have any upper limits of age isn't convincing enough for orthodox Indian parents.

Says psychologist Deepti Adukia, "There is a strong belief as far as arranged marriages are concerned that if the girl is too 'choosy', or takes too long to make what is probably the most important decision of her life, she will then have to compromise on the person she finally marries or, even worse, she may not get married at all. This so called 'compromise' is in terms of physical appearance, economic background, education, or social standing. The same nature of pressure exists for the boy as well, except it tends to be less intense and he seems to enjoy greater flexibility. This again, stems from certain gender biases that still plague our society. If an engagement does break off, the natural conclusion people draw is that there must've been something amiss in the girl, or her family.












Ask our Experts :
Expert Advice, Personality, Immigration (US), Tarot, Hot Couture, Body Care, Matrimonial Laws, Sexual Health, Life, etc, Man vs Woman, Fitness.

Copyright © 2020 Shaaditimes.com - A relationship and wedding portal by Shaadi.com. - All Rights Reserved.
Terms and Conditions