5 Ways to Help Your Man Open Up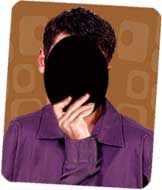 Men are so different. Cool, calm, composed and quiet... so unlike women. But what women don't realize is that they too want to speak, talk their hearts out about a problem, office affairs or may be just routine issues.
Most men desperately need to unburden themselves. However, the trick lies in letting them open up, giving them their space and at the same time making them say what they want to say to you.

And if you really don't know how to do that, Shaaditimes gives you some excellent ideas to help your man come out of his closet:



Pamper him like a kid...
Firstly, keep in mind that men take time to open up. If there's something that's bothering him, he won't straight away come to you and tell you everything. Remember that unless he's comfortable, he won't say a word.
So, when you find him a little disturbed, it's best to avoid the 'why', 'where' and 'how' for sometime. Let him unwind and reach his comfort zone. Treat him like a kid, do what he loves, cook what he likes to eat... in short, give him all the things, which would melt his heart. And then, when you see that he won't mind your questions, ask what's bothering him. And you'd be surprised the way he'll let you know each and every little thing that's been on his mind.



Be an avid listener...
What's also very important for you to know is that a man would never show his weakness or display his vulnerability to anyone, not even to you. He fears that if he opens up, someone's going to laugh at him, leaving him humiliated and rejected. He has him own fears which bar him from opening up! So, even if the sky were falling down on him, he'd say, 'I'm fine'.

So, when you find him discussing a serious matter, give him enough time and patience to explain even the minutest detail. Be a solid and secure listener. If you respond to his thoughts by immediately offering your point of view with something like "Well, that's wrong. I don't agree" or, "Why did you do that?" he is going to clam right up.




Be open about yourself, too...
It is said that a relationship works mutually; it's two-way traffic. This means that if you want your guy to be truthful and open to you, be open about yourself as well; after all a relationship is all about give and take.
And when he starts to open up, listen to what he is saying, then take a step beyond and offer something positive in return. After he tells you something personal, say something like, "Well, that's not so bad. I've done worse." It would make him feel more comfortable and at ease.



Give him positive feedback
Many women just look at the negative points of the issue and completely forget that it's not a time to give opinions or teach him but a time to "make friends" with your beloved. Your honest and positive feedback is vital and is the only thing required.
For e.g., if an office colleague has been bothering him, it's important for you to understand his point of view and agree with him.

Remember when a couple is getting to know each other, they share common experiences, and therefore experience closeness and comfort. This will help your partner realize that there is someone who understands and will then open up even more.



Let go of the past
Have you ever had a "discussion" with your partner that ended up turning into a litany of past grievances? It happens at some point in nearly every relationship, but the fact remains; men cringe when they feel this coming on. When a man fears that his words will later be distorted, misunderstood, told to others or thrown back at him, it is impossible for him to open up.

So, if you want him speak to you openly, try this... Take responsibility for your part in the situation and see the ways in which you might have contributed to what happened. This does not mean blaming yourself, either. Just look at the situation with a larger perspective. Focus on all the things he did right, not wrong.

Also, the ability to forgive may be just as simple as realizing that what was true a year ago about him (and about yourself as well) may not be true now. Stay focused in the present. True communication requires the ability to remain in the present and to let the past be over and done with.


A shaaditimes feature
Classic Combo
Encore Ladies Handbag
Graceful Metal Show Piece Dice Watch
Rs.1,402 ($29.12)
Rs.1,733 ($36.00)
Rs.3,450 ($71.67)
Rs.1,121 ($23.29)











Ask our Experts :
Expert Advice, Personality, Immigration (US), Tarot, Hot Couture, Body Care, Matrimonial Laws, Sexual Health, Life, etc, Man vs Woman, Fitness.