Married And Friends With The Opposite Sex?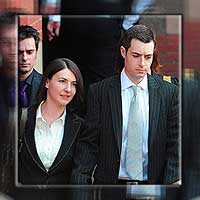 Friendships outside a marriage are healthy for us. They are a support system during tough times, an opportunity to share common interests and hobbies and also the means for growth as an individual. However, if such a friend is from the opposite sex; maintaining the friendship can be very challenging without being looked upon suspiciously. A male and female co-worker taking a coffee break together every day will attract more than one employee's attention and perhaps even a wagging finger. But two colleagues of the same sex would be almost invisible even if they went out to lunch.


Why the discrimination?

Society conditions us from childhood about different behaviour in presence of the opposite sex. Going through adolescence many parents talk to their teenagers about appropriate behaviour and the lines to be drawn in the company of the opposite sex. In the words of Dr.S Sharma, a marriage consultant, "Society often assumes sexual involvement between two people of the opposite sex even if that relationship lacks physical touch."

The Upside

Cross gender friendships can be very beneficial in many ways as they offer all the qualities missing from same gender friendships. They are normally not as competitive as same gender ones. "My female friends are always trying to look better than each other without even knowing it," says Suman T., a 28 years old teacher. Another reason cited by women is that cross gender friendships are not as emotionally demanding. They find other women want to be on a very intimate emotional level. Some men are attracted to women as friends because they find that they get a new perspective on various subjects, including tips on gifts for their wives.

"My male friends go through the same anxiety about buying the perfect anniversary gift, but do not want to be a part of my distress. A female friend will be willing to oblige," says Rajesh M, a 33 years old accountant.

The Downside

Almost 30% people who form cross gender friendships were at some point sexually attracted to their "friend". Husbands and wives can read such messages and the temptation can end up in a ruined marriage. So it comes as no surprise that close cross gender friendships after marriage are in low numbers. This is due to possessiveness and jealousy that often characterizes sexual relationships. It is the sexual attraction that complicates friendship with the opposite sex after marriage.

In a survey almost 25% men and 45% women reported that it is absolutely unacceptable for their spouse to have opposite sex friends. However, many amongst those said it would be alright if the friendship had been formed prior to the marriage.













Ask our Experts :
Expert Advice, Personality, Immigration (US), Tarot, Hot Couture, Body Care, Matrimonial Laws, Sexual Health, Life, etc, Man vs Woman, Fitness.

Copyright © 2020 Shaaditimes.com - A relationship and wedding portal by Shaadi.com. - All Rights Reserved.
Terms and Conditions