Do men cheat more than women?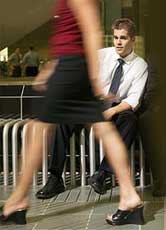 There's no definite answer to this question. Both sexes seem to be at it, though the reasons could be different...


Counselling psychologist Priyanka Shah's professional reply is, "I don't think a blanket statement that men cheat more than women can be made. Cheating on one's spouse is more related to individual situations rather than gender-related ones."

Abhijit Bhelande, a 21-year-old game programmer, seems to agree, "The question one should ask is whether infidelity is more inherent in the nature of men than of women. Then it is easy to see that it is the very nature of human beings rather than just one of the sexes. Humans have needs both physical and emotional. When left unsatisfied it is in the very nature of human beings to seek some means of satisfying them. I believe that both sexes have resorted to infidelity to satisfy certain urges or fill this gaping void in their otherwise trivial and unsatisfied lives."

Resorting to raw statistical data, private detective Rajdeep, who has dealt with numerous cases of infidelity, reveals, "Men and women indiscriminately cheat on their partners in equal measure with similar guile and cunning. Both the sexes resort to adulterous physical relationships. With it being a freer society nowadays the scope for cheating is immense - it can be through office flings which get serious, illicit liaisons with the spouse's relatives, through friendship clubs which are actually hubs of prostitution or sleazy massage parlours."


Reasons for cheating for both the sexes:

According to Priyanka, "I do, to an extent agree that men and women may have different ways of cheating or being unfaithful. The reasons for infidelity may differ. This probably comes out of the fact that women tend to resort to infidelity for love and security needs, as opposed to men who need an "outlet" or "a fix". This again, may be more relevant within our culture, given men and women's distinct roles in society. However, individual cases do exist and the reasons could be varied and situation-specific." Abhijit adds: "Men cheat for reasons mainly concerning their ego, trophy hunting, fear that they are getting old, loneliness, or more often than not simply for the sex, the excitement of it all. Women resort to the same as a means of finding intimacy in times of loneliness, or to prove they are still attractive - that they still have it, to others as well as to themselves, and even for revengeful purposes, or again simply sexual pleasure - tasting the forbidden fruit. However, the reason most people find intimacy with someone outside of their marriage because their emotional needs are not being met is a prime factor leading to infidelity."

How men and women react to infidelity:

When asked if men or women are more suspicious by nature, Priyanka answers, "I think both men and women are equally prone to being suspicious; although I feel, women tend to communicate this more directly than do men. So it may seem like women are the more suspicious of the two, men are usually more wary of verbally expressing their concerns."













Ask our Experts :
Expert Advice, Personality, Immigration (US), Tarot, Hot Couture, Body Care, Matrimonial Laws, Sexual Health, Life, etc, Man vs Woman, Fitness.

Copyright © 2020 Shaaditimes.com - A relationship and wedding portal by Shaadi.com. - All Rights Reserved.
Terms and Conditions