The 'I do' fear
Dealing with commitment phobia
Rishi's
parents got a divorce when he was in his early teens. Belonging to a dysfunctional family Rishi always craved for love and understanding. Due to this he started dating at a very young age and has been with many women. However, being 40 now he is still unmarried. Most of Rishi's relationships have been flings - he enjoyed flirting and entered into many short-term physical relationships with women.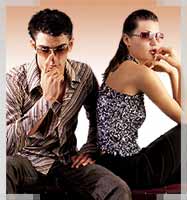 There were however two women in his life with whom Rishi felt he was genuinely in love but he did not marry either of them. The reason he gave was, "I've totally lost faith that true love can be everlasting. My parents in fact eloped and married and they initially felt they could not live without one another. But their romance soon soured and serious problems surfaced in their marriage since I was a child, which traumatises me still. Now I have one-half brother and two step sisters. I broke up with the two women I loved especially when we grew closer as I felt that something would happen to sabotage our relationship. I refused to marry as I feared that I would also have to go through a bitter divorce like my parents." Rishi admits he suffers from commitment phobia and has recently started seeing a therapist.


Indira feels that no man is good for her. Her agenda for 'Mr.Right' is quite exhaustive - "he must be handsome, tall, rich, caring, creative, dress smartly, have a prestigious job, be an adventure freak, socially presentable ... ...'. She has in fact rejected proposals due to flimsy reasons like - 'he doesn't drive the right car' or 'his hairline has receded slightly'. Indira who is in her early thirties feels she's still single as none of her many suitors were remotely eligible. "The last thing I want to do is make any sort of compromise while entering into a marriage."


Meena had a few bitter break-ups and her engagement was broken off three days before the wedding. Interestingly Meena has a tendency to fall in love with men who just aren't interested in forming an intimate relationship or genuinely love her. But if she meets a man who is really loving and caring she avoids him. Referring to Audrey Chapman Seven Attitude Adjustments to Finding a Loving Man on types of behaviour women may use to avoid commitment, Meena seems to fit into the 'pity party-goer category' who has a 'has a self fulfilling prophecy that she can't meet someone who is right for her'. Interestingly she starts relationships that are doomed to fail thereby reinforcing her self-fulfilling prophecy of failure. She also has a habit of leaving and returning to the same failing relationship over a lapse of months or years. Maybe that's her way of avoiding commitment thereby hurting herself in the process.

What is commitment phobia? The online Wikipedia dictionary defines commitment phobia as 'a common fear that men and women alike encounter - either as the commitment-phobe or significant other of one.' At the base of this phobia is a set of false beliefs, or disbeliefs about relationships.

Expert speak:
Sociologist Vinita Bhatia feels, "I do not believe that there is Ms Perfect / Mr. Right existing and waiting for him / her. It is more rational and logical to commit yourself to someone you more or less like and then make adjustments to make a relationship work provided your partner has feelings for you too." When asked how a person may ascertain if he / she is dating a commitment phobe, Vinita answers, "There will be a lack of seriousness. You may find that all that the person is looking for is fun."

Consulting psychologist, Dr. Eshita Mandal feels, "I feel that marriage denotes ultimate commitment as opposed to long-term live in couples who are not comfortable of living with the idea of commitment. They prefer to have their freedom and feel if they commit they would get tied down and would not have the freedom they are used to. Marriage involves not only committing to one's spouse but to one's children and extended family members. Commitment phobes would love to have close friends but would not commit himself / herself to get married."

Commitment phobia does not pertain only to men:
A prevailing myth is that commitment phobia essentially pertains to men as they don't want to forsake their fun-filled bachelor days to going home early in the evening to his wife and children and seriously taking care of family responsibilities. On the contrary women are taken to be the nurturing type who wish to settle down and have children. This theory is however a generalization especially in the contemporary era.













Ask our Experts :
Expert Advice, Personality, Immigration (US), Tarot, Hot Couture, Body Care, Matrimonial Laws, Sexual Health, Life, etc, Man vs Woman, Fitness.

Copyright © 2020 Shaaditimes.com - A relationship and wedding portal by Shaadi.com. - All Rights Reserved.
Terms and Conditions