Tips to Blow up Your Date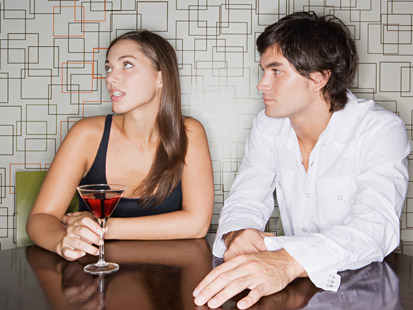 You've been chatting with someone online for a long time and you have no idea what the person looks like. You guys finally plan to meet up and when you see him/her you just want to run away! May be that person is just not your type, but you obviously can't run away now. So, here's a list of things you can do to screw up your date...

Embarrass your date


This is very simple. All you got to do is dig your nose like never before, scratch at all the wrong places, bite your nails, blow air bubbles, clean your ears with a key, make paper boats from tissues placed on your table and keep throwing them on your partner, etc. This kind of behaviour is enough to sent him/her packing!


Use bad breath

to your advantage
If you guys had plans of dining together and you think you're too good for him/her, eat lots of garlic and onion and announce that you are the best kisser in town. No matter how cool the other person finds you, s/he would want to just disappear! So, you're safe.


Flirt with people around


You're on a date, so your partner obviously won't like it if you check out everyone around and not him/her, right? So, try it to save your life. Forget about how bad will your partner feel and try your best to ignore your partner, so that s/he doesn't talk about meeting up ever again!


Be Loud
We agree, your partner is sitting close to you, but when you talk make sure you're loud enough. Soo loud that people sitting at the next table clearly hear what you're saying. Also, pretend as if you can't hear your partner and ask him/her to be louder. This way the person will avoid talking much and your date will quickly be over. Trust us!

Order Loads of Food
You must be conscious about your weight, but forget about it on this disaster date and order loads of food that will be sufficient for four people and not just two of you. Next, start behaving like an eating machine if you have to and then go home and throw up, but do eat like there is no tomorrow. When it's time to clear the bill, pretend that you need to use the washroom urgently and don't return. A sureshot way to make sure your partner will never want to see your face again!

- Hemant Kumar
Encore Ladies Handbag
Tamar Khaleeji Omani - Dates With Dryfruits
Cappuccino
Rs.3,250 ($67.51)
Rs.648 ($13.46)
Rs.899 ($18.67)











Ask our Experts :
Expert Advice, Personality, Immigration (US), Tarot, Hot Couture, Body Care, Matrimonial Laws, Sexual Health, Life, etc, Man vs Woman, Fitness.