10 Signs Your Partner is Two-timing You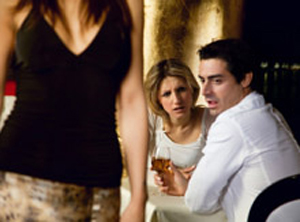 So, you've finally met someone who you gel with on every level and who seems just perfect for you. You're on cloud nine and things couldn't be any better. However, lately you are feeling that something is amiss. You don't exactly know what? but you have that little niggle in your mind, which tells you something is up.


Ever felt this way about your partner? When you're in a relationship, there are times when you have sneaky suspicions that your partner is seeing someone else behind your back. Sometimes these suspicions may turn out to be true, whereas at times your doubts may not be rooted in reality. Simply asking your lover whether s/he is seeing someone else may not be the smartest way to find out because if your suspicions are wrong, your partner may feel insulted and things can take a turn for the worse. So, here are 10 signs that can help you find out if your partner is really two-timing you...


Your partner always insists that you guys go out somewhere in your area
Well, this may seem like your love is trying to be generous by coming over to your area, instead of asking you to take the trouble of travelling to his/her neighbourhood, it could also be a sign that your partner does not want to take the chance of being spotted with you in their area.

The business trips are becoming more frequent, especially over the weekends.
So, now your partner has no time for you? Reason: S/he's been very busy with work and has some important business meetings lined up for the coming week. If this is what your partner tells you everytime you want to meet up, don't easily fall for that. If you know any of her/his colleagues, find out how true is that without letting your partner know.


Your partner doesn't bother to call you back
While your sweetheart couldn't stop calling you earlier, all your communication is now through email or SMS. This could be because your partner doesn't want someone to overhear when s/he's talking to you. Also, may be s/he thinks it's a waste of time spending hours talking to you.

Your partner tries to avoid you with excuses
When we say excuses, we mean related to work or family functions. But when you ask any questions you never get a specific reply for what the meeting or function is about. Perhaps, your lover is out with someone else and not really at work or with family.

Your partner gets a call and s/he asks you to excuse him/her
If you think that's due to poor network, agreed! But if it happens regularly, it may be a sign that your partner is taking a call from another sweetie!

Your lover's friends and colleagues suddenly seem to be extremely uncomfortable when you are around
If that was not always the case, the discomfort could be caused from knowing that your lover is two-timing you.

When you ask him/her about the past relationships, you get answers that are very vague
This could be simply because your partner is uncomfortable talking about his/her past or may be that's not the past but still the present.

Your sweetie is forever online chatting with someone
But the minute you come remotely close to the computer, the window is shut down. What is it that your partner is trying to hide? Find out!

Your partner is never without the phone, come what may
Not just that, but s/he tends to get very paranoid if the phone is lying around where you may have access to it. Wanting your privacy is one thing but going to any lengths to keep the phone from falling into your hands…something's up!

You get to know that your partner has been unfaithful in his/her past relationships too
This is not something that you should be concerned about, but if any of the above signs exist and your partner has cheated on you once before, it means there's something fishy.

Vipasha Pillai
Photo Pillowcover: Pink
Roses n Wine
Chocolate Fudge Walnut Brownie
Rs.525 ($10.91)
Rs.475 ($9.87)
Rs.1,699 ($35.29)
Rs.701 ($14.56)











Ask our Experts :
Expert Advice, Personality, Immigration (US), Tarot, Hot Couture, Body Care, Matrimonial Laws, Sexual Health, Life, etc, Man vs Woman, Fitness.