Newlywed Blues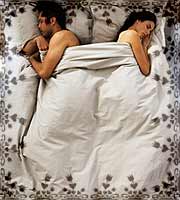 The latest virus that is attacking newly married folks worldwide.

Marriage is about finding happiness, fulfilment and lifelong love. Or is it really? Apparently that's not what many newlyweds will tell you these days. The latest spectrum of depression that's getting the spotlight is what some relationship gurus have coined ''Post Nuptial Depression'', or commonly known as ''newlywed blues''.

A recent report suggests, ''One in ten newlyweds suffer from some form of anxiety or depression over the first six months of marriage.''

Doctors claim that there is no such word in medical dictionaries and there is probably not enough research done on the matter. However, they do acknowledge a rise of young newlyweds, both male and female, complaining of symptoms like chest pains, unending headaches, insomnia and high blood pressure. ''This could be due to all the new circumstances that one has to adjust to after marriage. It may not be a medically proven condition, but nonetheless it does impact many newlyweds,'' says Dr. S. Sharma, a marriage consultant.


Weddings are always a huge affair. The amount of time, effort and money that is spent on planning a wedding is not exerted in any other single event. Brides and grooms spend months on end trying to create the perfect dream wedding and when the big day actually passes, they seem to be at a loss. For the bride it seems to be more about losing the comfort zone, the familiarity of her own home. For grooms, it could be the feeling of loss of certain amount of space, both physically and emotionally.

An increasing number of couples are both working, which means added stress with less ''together time''. Long absence of leave from the workplace for the wedding and honeymoon often imply working even longer hours once the newlyweds resume work. This might leave no time for household chores and no energy for a sex life, from one or both partners. All this put together can create feelings of resentment or depression since this was obviously not what they pictured life as a newly married couple.

The newlywed blues do not necessarily project themselves in a severe full blown depression. Look out for some of these symptoms in yourself and your spouse. Dr. S. Sharma advises, "If these symptoms do not go away after the first three months, its best to seek medical help. It is also important for the spouse to be supportive and understanding during these bouts of sadness. Take the person for a walk or out for a meal to brighten up the mood."


Persistent sad, anxious or "empty" feeling
Constant feeling of lethargy or fatigue
Feeling helpless or crying for no reason
Avoiding social events or friends
Restlessness or irritability
Persistent physical problems like headaches, digestive disorders, or chronic pain
Avoiding the newlywed blues:
Focus on the marriage, not the wedding day - Your marriage is not about the wedding day alone, it's about a future together. Talk to your partner about your views, discuss each other's goals and make plans as a couple.
Take a postponed honeymoon- Author Marg Stark of "What No One Tells the Bride" suggests taking a honeymoon a little after the wedding so that you both have something to look forward to later in the year. It helps financially too.
Don't isolate yourself- Many newlyweds stop hanging out with their single friends and are afraid to go out with married friends who seem so happy and in control of it all. Reaching out to friends keeps you afloat.
Stick to your wedding budget- Starting a life together knee deep in debt will bring added stress.
Take up a new hobby- Exerting your energies toward a new hobby will make you feel achieved.
Decorate your new home- Nesting together will strengthen your bond.
Plan reunions and parties for friends and family- A fun way to keep busy and stay in touch with your support system.
The most important thing to remember, before and after you get married – Married life is not like a romantic movie with one exciting moment after another. Married people have to still live everyday lives, do mundane chores and go about their daily routines. The sparks of romance and laughter will come and go; it's up to us to keep the fire going.
Aarti Thadani
Tamar Khaleeji Omani - Dates With Dryfruits
Photo Pillowcover: Pink
Day Wear Shoulder Bag for Women
Rs.525 ($10.91)
Rs.648 ($13.46)
Rs.475 ($9.87)
Rs.3,850 ($79.98)











Ask our Experts :
Expert Advice, Personality, Immigration (US), Tarot, Hot Couture, Body Care, Matrimonial Laws, Sexual Health, Life, etc, Man vs Woman, Fitness.