What's In A Name?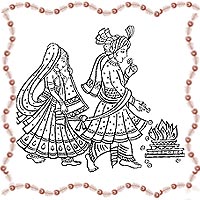 Would you change your FIRST name along with your last name after marriage?

To change or not to change. Not even an option until a decade ago, the decision whether they should change their last name to adopt that of their husbands is high on the agenda for soon to-be brides. For career oriented women taking on a new last name can cause many complications at work. Some are going with hyphenated trend, which seems to be a mid-way compromise. They reason that this is the best way to retain their own identity and merge with that of their spouse. So the latest trend for the urban Indian woman's signature is to appear something like ''Mrs. Meena Parikh-Ajgaonkar''.


Ironically, the Western world is seeing the fad finally starting to fade after thirty years. Recent studies at Harvard show that an increasing number of brides in North America are now opting to take on the groom's last name; with no hyphens.

Now the more interesting part - Did you know that some Indian communities follow a tradition of changing the bride's first name after marriage? Sindhi, Bengali, Maharashtrian, Kannada and certain Punjabi families change the bride's first name. Some have a name change ceremony after the wedding, where the groom carves his bride's new first name in rice using a ring. Others ask the groom to whisper the bride's new first name in her ear. The name is chosen based on astrological compatibility of both newlyweds.

"When the pundit told us that my change of name would bring our marriage loads of good fortune; I agreed immediately. Besides, I did get a say in the chosen name; only the beginning alphabet was calculated by him", says Heena D, a jewellery designer. However, she maintains her full maiden name (first and last) at work since it's just more convenient. Here was a girl who was professionally successful and independent. Rebellious and fashionable, yet she agreed to change her first name, which many women equate to one's complete identity.

Personal orthodox beliefs are not what prompted Sudha Naik, a pre-school teacher in Bangalore. She was coaxed by her in-laws and her husband; who believed in age old Kannada tradition. "I did it to maintain peace and keep everyone happy." she says. Many women today would respond by saying it should not be their burden alone to maintain peace in the family.

Shalini Mirchandey was thrilled when she learnt that her in-laws did not care for her to follow this norm of their community. "It was an absolute no-no for me. How does one adjust to a new first name after 25 years? The new last name itself was difficult to get used to." Her sister-in-law to be does not have the same circumstances. Since Sunita shares the same first name with her mother in-law, she'll have to change her first name after the wedding. Imagine the comedy of errors in a household with two women sharing identical first and last names.

Rupjot Gill, a Toronto based lawyer, shares her story. "My in-laws suggested that I change my first name to Rupman since they thought that sounds better but I discussed my disapproval with my husband. I like my name and am proud of what my parents chose for me". Rupjot and Shalini, like many others, are questioning the old belief system where women should bow to any requests from their in-laws. They are proud of their identity and are not willing to change that.

Does a name change who you are or your character? What's so wrong in having a new first name if that's what makes your family happy? In life's bigger picture, the name game is so insignificant. I am still me. My parents and old friends continue to call me by my maiden first name while my in-laws use my new name. Legally and professionally I sign with my maiden first name and my new last name (due to laziness I got only the last name changed on all legal documents). Confused? It gets better! My husband doesn't call me by either of those two first names. He just uses various terms of endearment. Still, having several names does not alter the fabric of my being. I know myself and am confident of whom I am. What you call me is not going to change an iota of my personality.


Aarti Thadani
Classic Combo
Wooden Jewellery Box With Tile
Mcdonald's Gift Voucher
Rs.925 ($19.21)
Rs.1,733 ($36.00)
Rs.749 ($15.56)
Rs.500 ($10.39)











Ask our Experts :
Expert Advice, Personality, Immigration (US), Tarot, Hot Couture, Body Care, Matrimonial Laws, Sexual Health, Life, etc, Man vs Woman, Fitness.