First Impressions & In-Laws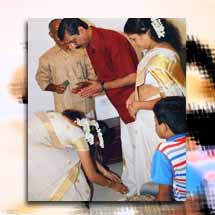 How to make a good impression when meeting your future in-laws for the very first time.

Studies have shown that most people make their first impression within five minutes of meeting another person. And if first impressions are really last impressions, you must make sure all goes smooth in the first rendezvous with the prospective in-laws. Here are a few tips to help all you to-be brides and grooms.



Be yourself: When meeting any new person, the only way to let the awkwardness pass is by being you. This stands true for your partner's parents too. Trying to portray a completely different personality will make you uncomfortable and will eventually be noticed by everyone. Now we are not advising you to act boisterously like you might with your buddies on a night out. But forget the overly-demure bride or affectionate son-in-law routine too. Instead, behave like you do with any respectable adult.

Learn about them: Ask your partner to brief you a little on their interests, their jobs and especially the taboo topics in the family. If they are from a different culture, they will appreciate you knowing about their traditions. While a complete course of ''Mom and Dad 101'' may not be available in case of an arranged marriage; learn all the details you possibly can.

Dress for success: Make sure you are dressed neatly; clothes should be well ironed and appropriate to the location you are meeting at. A casual look is fine for a coffee shop but a restaurant demands more formal attire. If you have been invited to their place, a semi formal look is your safest bet. Men, this is not a day to sport the rugged look - shave please. Women, they want to see your real face, keep the makeup subtle and classy. And no cleavage please!

Mind your posture: This one is not as lame as it sounds. Maintaining a good posture reflects confidence and poise. Slouching will project you as a nonchalant person who thinks this meeting is of lesser importance. Try to maintain eye contact while talking and don't tap your foot or look at your watch.

Address them correctly: Ask your fiancé / partner in advance how your future in-laws would like to be addressed and greeted. Different cultures have different ways of showing respect. If you are unsure, stick to what your own parents have taught you when being introduced to their own friends for the first time.

Mind your manners: In addition to please and thank-you, stand up when being introduced to anyone. Touch their feet for their blessings, if that's the culture. Wait till they are seated before you sit. Be polite but not fake. Sugar coating every compliment will come across as not saying it from the heart. Mind your table manners and help to clear the table if at home. Thoughtful gestures, even as small as passing the appetizers around will make a good impression.

Involve the entire family: Striking up a conversation with your partner's / fiancé's siblings and grandparents will certainly help you to score added brownie points. Your interest in their entire family will give your future in-laws a glimpse of how you interact with others.

Stick to safe conversations: Try not to discuss religion or politics, both of which have highly differentiated opinions. Let them start most conversations. Safe topics for you to start on include complimenting their home or a painting there, the weather, a little about your family or a common hobby that you might share with one of them. If they start on a controversial topic that you are unsure of answering, try to change the topic. Parents love to talk about their own children. So ask questions about your partner's / fiancé's childhood. Absolutely avoid saying anything critical about your partner, even as a joke. You can get into a sticky situation if they do not find it funny.

Remember: They have raised the person you want to marry. Respect them for that and remember your partner is the person he / she is, because of your future in-laws. They only want what's best for their child and that's true of any parents, including your own. They want to make sure their child is marrying a considerate, stable and nice human being. This thought will help you keep an open mind and shake the nervousness off.
Aarti Thadani
Encore Ladies Handbag
Lanvin for Men
Fastrack Watch For Men
Rs.1,795 ($37.29)
Rs.3,250 ($67.51)
Rs.1,705 ($35.42)
Rs.1,095 ($22.75)











Ask our Experts :
Expert Advice, Personality, Immigration (US), Tarot, Hot Couture, Body Care, Matrimonial Laws, Sexual Health, Life, etc, Man vs Woman, Fitness.