Monkeying Around: See, Hear & Say No Evil


Marriage Mein Gandhigiri - Part 3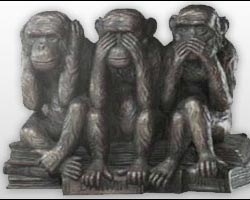 ''See No Evil, Hear No Evil, Say No Evil''- In today's world, where the concept of simplicity is scarce, how would Gandhiji's three monkeys fare in a relationship?

Gandhiji's very strict implementation of a non materialistic life had one exception - a statue of the three monkeys; one covering his eyes, the other monkey covering his ears and the third one covering his mouth. We all know that the monkeys symbolise staying away from all evil in order to keep evil, hatred and ill feelings away from us. The monkeys remind us not to be snoopy, nosy or gossipy. And thus the proverb ''See No Evil, Hear No Evil, Say No Evil.''



See No Evil: When two people commit themselves to relationship, they are in effect telling each other that they will be faithful. To eye another's spouse is an obvious way of inviting trouble. So while the object or person of focus might not be evil, the action of looking at them is evil.

Or like Dr. S Sharma, a marriage consultant points out, looking at some things might be perceived as bad by just one person in the relationship. "While men may think downloading a little bit of porn is within the boundaries of marriage, women find it totally unacceptable. And men should respect that to maintain harmony." So lustfully eyeing someone other than your partner will rock your relationship boat.

However, what about simply eyeing your partner's affairs too closely? "Snooping around your spouse's things, going through their email or opening their mail will all send one message to your spouse - lack of trust on your part," says Dr. S Sharma. Everyone needs their space as an individual even if they are part of a relationship. This also means not questioning them too much about their cross gender friends.

Hear No Evil: When we pay attention to gossip about our spouse that may have originated at work, from friends or ex-lovers, it brings nothing but friction into the relationship. Gossip is generally idle talk with a malicious intent.

Dr. S Sharma reminds us that, "The person spreading rumours is either jealous of your partner or has some past differences. And you are only becoming an accomplice if you pay heed and let it affect your marriage."

You might face circumstances when the know-it-all mother-in-law will try and emphasize how she used to do things for her child (now your spouse). Her words are obviously implying that you do it wrong but here is where you should "hear no evil in it". Simply ask your spouse how they like it. This will avoid any ill feelings. Now that does not mean we have to lend a deaf ear to everything negative we might hear about our partners. Often the only way to find out about serious problems (infidelity, alcoholism and gambling) is through our closest friends or family. The key is to know whom to trust.

Say No Evil: Words can hurt deeper than actions and their impact can last a lifetime. Often words said in anger, anxiety or haste can create wounds too deep to heal. Being frank with our partners is one thing and being frankly rude is another!

"Sometimes people get so comfortable with their partners, they forget to think before they speak. And that is where the trouble starts", says Dr. S Sharma. Constant criticism, nagging and mocking our spouses also come in this category of "evil speech". We can choose our partners, but unfortunately we cannot pick their families. Bad mouthing the family members will only increase the creases in a relationship. Some of them can take years to iron out.

So, can the three monkeys be squeezed into modern relationships? Perhaps with a pinch of Dandi salt that might just be possible! What say Bhai?

Also Read
Marriage Mein Gandhigiri
Marriage Mein Gandhigiri Part 2: Ahimsa


Aarti Thadani
Encore Ladies Handbag
Roses n Wine
Lanvin for Men
Rs.1,795 ($37.29)
Rs.3,250 ($67.51)
Rs.1,699 ($35.29)
Rs.1,705 ($35.42)











Ask our Experts :
Expert Advice, Personality, Immigration (US), Tarot, Hot Couture, Body Care, Matrimonial Laws, Sexual Health, Life, etc, Man vs Woman, Fitness.