The Other Woman In His Life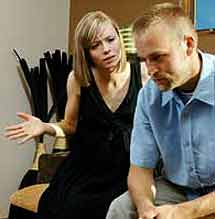 Some things are black and white. Husbands (and wives!) should be faithful. Husband has an 'other' woman. Black. Throw him out. Husband has place only for you in his life. White. Love him forever.

Unfortunately, life is not always black and white. In fact, much of it is grey. The other woman in Sonia's husband's life is his sister.

Says Sonia, ''Yaar, I'm not a crackpot who is starved for my husband's attention. And nor am I looking to make my sis-in-law an outsider. She is his sister and will always be! But the problem is didi refuses to just stay a didi.''

"Rohan is 35. She's 40. And yet, they talk on the phone at least 4 times a day. Since didi lives just two houses away from us, Rohan actually takes care of all her household chores. So, if didi's phone is not working, she calls Rohan. Rohan then calls the telephone guy to come and fix it. Last winter her geyser was busted. She called Rohan and he actually came home in the middle of a work-day to get it fixed.


Chalo, that's also fine. He's a caring guy and all. But hello! When the phone in our house conks off and I tell Rohan, I get the reply that - 'You're smart enough. Get it fixed!' And before you start thinking anything let me tell you didi is well-educated and a vice principle in a school."

Sonia says this is just one example of how her sister-in-law impacts her home life. She says she doesn't think twice about calling them at 11-12 in the night - just to catch up. She sends her 7 years old daughter every single day after school to Sonia's place to hang out till dinnertime - except Sundays.

Of course, since Sonia's in-laws stay with them, there is no way on Earth that Sonia can say anything against didi. In Sonia's words - "If I treat didi like God, they treat me like a human."

"To add to all this, my family is not very welcome in our house. Rohan doesn't really bother interacting much with them. However, if I want to go out and didi happens to stop by, I have to cancel all plans. It's almost come to the point where I have to check didi's plans before making my own!"

"I have never had the guts to say anything against her since the last 7 years. To be honest, if it wasn't the constant but subtle interference from my sis-in-law, life would be quite good. But I can feel my frustration building and something is going to give - soon."

Sonia can feel that she is getting fed up and needs to change the situation somehow. But she says that Rohan is unreasonable when it comes to this aspect of their relationship. He cannot fathom how his love for his sister can compare or compete with his love for his wife. And he has made it very clear - if he is forced to choose between the two, Sonia might just be the loser.

So who's the problem here?


Is it Sonia's sister-in-law for over stepping her bounds? Why? She's only doing what she's always done - depending on family for help. Nobody's told her it's a problem and she needs to back off... so how is she to know?

Is it Rohan for not giving his wife top priority and realizing that when you get married, your wife comes first? Your sister will always be a huge part of your life, but not as big as your wife.

Or is it Sonia herself? Should she stand up for herself - perhaps even at the cost of her marriage?
Kavita Harlalka
Fresh Fruit Cake
Photo Pillowcover: Pink
Beautifully Designed Marble Pen Stand.
Rs.525 ($10.91)
Rs.1,100 ($22.85)
Rs.899 ($18.67)
Rs.475 ($9.87)
Rs.880 ($18.28)











Ask our Experts :
Expert Advice, Personality, Immigration (US), Tarot, Hot Couture, Body Care, Matrimonial Laws, Sexual Health, Life, etc, Man vs Woman, Fitness.