How To Bluff Your Way As A New Spouse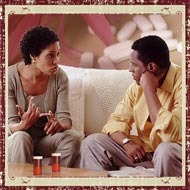 Everyone keeps telling you married life is all about love, happiness and compromise. What's the big deal you think? You've already met his parents and they like you... or at least pretend to like you. Your dad's met him and still living to tell the tale. He's seen you without make up. Or has he?

If you are like most brides, your unsuspecting husband has seen only your best side. He thinks you have beautiful long hair that falls silky straight to your waist. Never mind the blow dryer, straightening iron, TIGI curl control and anti-frizz, hair serum and every other hair product that goes into taming those locks. He thinks you are sugar sweet and never have a bad thing to say about anybody. Never mind the marathon phone conversations with your best friend discussing every minute detail about... his mother! He thinks you cook like a dream and he will be served breakfast in bed for the rest of his life. Never mind your friendly neighbourhood aunty who cooks like a dream and doesn't mind if you take all the credit.


Then again, if you are like most grooms, your rosy-eyed bride has seen only your best side too! She thinks you are oh-so-romantic because you send her flowers everyday. Never mind the fact that you paid the florist for six months worth of flowers in a single go - and it's six months to your wedding day. So post-wedding it's kaput for the flowers. She thinks you are a sensitive metrosexual man because you remember all her nieces and nephews and even her mother's sister's son's birthday. Never mind the fact that your secretary calls and reminds you of every occasion. She thinks you never even look at other women and Liz Hurley is totally overrated. Never mind the adult videos stashed in a corner of your office and your lifelong subscription to Playboy.

It all adds up really. If you think about what it takes to make a marriage work it's all about putting one's best foot forward. If that means hiding all the dirty feet and brushing a few of the really rotten one's under the carpet, then so be it. Another theory is that poker players make the best spouses. After all, they are experts at the game of bluffing.

You can bluff your way too with a little bit of clever manoeuvring. New brides who want to impress with their cooking skills, but don't have any, fret not. The trick is to never cook anything his mother does. Fact of the matter is you can never be as good as she is. So why try? Instead insist on cooking up 'new' dishes and presenting them in your own unique style. That way, even if you mess things up and add a few ingredients that weren't meant to be there nobody will know. So put on your chef's hat and whip up gourmet meals to your hearts delight... not your stomach's delight maybe, but one out of two isn't bad.

New grooms may want to keep up their macho appearances also. If DIY projects really aren't your style and your blushing bride is waiting for you to put together the new dining table, there are two possible ways to bluff your way through this mess. The first can cost you a pretty penny but goes down really well. Tell your bride that you can't be bothered with such mundane tasks and your time is worth far more. Call a professional instead to assemble the required furniture. Quick, easy and expensive. But very effective. The other way is to tell your darling that you want her to be completely independent of you. You think she's capable of doing anything she puts her mind to - and that includes putting together the table. Then pretend to help her out. If your bride is like most women she will figure it out eventually - you can help lift and carry things around and act like you know everything and are just letting her upgrade her skills.

Talking of appearances, that's another thing new brides might have to bluff their way through. So far your besotted husband has only seen your best face. Morning breath is something that only happens to men huh? And you positively glow even without makeup. Of course, he doesn't know about the hour you spend putting on makeup to make it look like you're wearing none. There are two possible ways to deal with this too. The first requires you to wake up really early in the morning. Insist that you are an early riser and wake up before he does. Put on all the required glob on yourself and be prettily mussed when he wakes up. 5 a.m. is a great hour to sneak around. You can rest assured your husband will be in dreamland and you will get at least 2 hours to get into costume. The other one may not go down so well with your husband but is a whole lot less effort for you. Wake up only after he leaves for work. Until then, hide yourself under the covers and insist that early mornings give you migraines and affect your health negatively.













Ask our Experts :
Expert Advice, Personality, Immigration (US), Tarot, Hot Couture, Body Care, Matrimonial Laws, Sexual Health, Life, etc, Man vs Woman, Fitness.

Copyright © 2021 Shaaditimes.com - A relationship and wedding portal by Shaadi.com. - All Rights Reserved.
Terms and Conditions