8 tips for the applicants of dependent spouse visa
Sudhir Shah
A Member of American Immigration Lawyers Association of USA and a practicing Lawyer of Mumbai. He is an expert on USA Immigration Laws. He provides guidance on how to prepare, apply and obtain a visa to travel to the USA upon marrying someone residing there.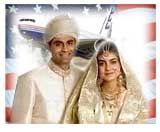 It is relatively easy and speedy to enter USA as a spouse of a USA citizen or as a spouse of F-1 / M-1 / J-1 (Student Visa) H-1B (Specialty Workers Visa), L-1 (Intracompany Transferee Visa), O-1 (Visas for persons with extraordinary capabilities), P-1 (Visas for Internationally recognized athletes and entertainers) or R-1 (Visas for Ministers of recognized religions).


Many people therefore are tempted to enter into fake marriages to gain immigration benefits of USA. The percentage of such bogus marriages is as large as 30% and therefore a special Marriage Visa Fraud Act of 1986 had to be enacted by the US Government. Whenever an application is made, for immigrant or non-immigrant visas, based upon the relationship of marriage, the Consular officers at the American Consulates are extremely skeptical about the genuineness of marriage. They require proof to show that the marriage is bona fide.

The following tips would be useful to the applicants of dependent spouse visa:
Before entering into marriage consult an advocate qualified in USA Immigration Laws and find out the requirement to receive dependent spouse visa.
Keep proofs in the form of photographs and writings of your meetings and contacts before and after the marriage with your USA spouse.
Take ample photographs of your marriage ceremony and reception.
After marriage, if female, it would be advisable to change your name in your passport from maiden to married.
Add your spouse's name into your existing bank account and nominate him / her as your successor in your properties.
Ask your spouse to write letters to you, send gifts to you, officially transfer money to you and keep records of the same.
Know everything about your spouse, his habits, his family members, his work place, his friends, the house where he lives in USA, the car which he owns, etc.
If your spouse's marriage with you is his / her second marriage then gather all proofs concerning the first marriage including photographs of first marriage, photographs after the first marriage, marriage certificate, if marriage has resulted into a divorce, court proceedings and if the marriage has terminated on account of death, the death certificate.
Cotton Kurta with Gold Print
John Players Signature Line T-Shirt for Men
Applique Work Stripes Kurti
Rs.1,000 ($20.77)
Rs.1,380 ($28.67)
Rs.769 ($15.97)
Rs.1,095 ($22.75)
Rs.1,200 ($24.93)











Ask our Experts :
Expert Advice, Personality, Immigration (US), Tarot, Hot Couture, Body Care, Matrimonial Laws, Sexual Health, Life, etc, Man vs Woman, Fitness.