Summer Haven
This summer transform your home into a cool retreat
Pre Independence there were summer capitals for most states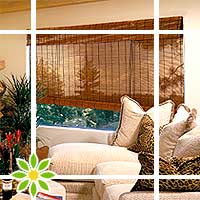 which were used as cool retreats for the sultry months. (In fact, Jammu and Kashmir still follows the tradition and has Srinagar and Jammu as its summer and winter capitals respectively).

But in this fast-paced world, where one cannot go on vacations to beat the sweltering heat the best way is to sit at home and introduce a few changes in your home decor, which will help you keep cool. ShaadiTimes brings a few suggestions to help you stay chilled, this summer.


Say it with greens
Architect Natasha Tuli says, "Summer is the time to take out all your pastel coloured upholstery. Not only are they soothing to the eyes but also calm your mind. Also, play up with your green potted plants to create a serene atmosphere at home."

She gives some tips to make your home a cool zone:
Summer is the perfect time to place all your potted plants, preferably green leafy ones, inside the house. Place them at the entrance of the hall or even at the corners to make a refreshing change in your home interiors.
What better way to stay chilled than to have fresh and beautiful flowers all around the living room! You can also use interesting containers instead of plain vases to make them look appealing. You can use a plain glass with a few white pebbles as a vase.
Another option is to take water in a glass bowl and add a few rose petals, potpourri or jasmine flowers to it. Not only will they emit a pleasant aroma but are also visually appealing.
Create your own comfort zone
Do away with thick linen curtains, synthetic bedsheets and dark upholstery. Cotton is the best fabric to use for upholstery during summer. Use nice pastel colours like lemons, powder blues, pinks and whites that will help cool your senses.
Another way of doing up your drapes is by using a soft sheer cotton curtain and a linen curtain together. During the mornings and evenings the linen curtains could be pulled up to let the breeze cool your home. Similarly, the linen curtains can be drawn in the afternoons to avoid hot sunrays from entering the house.
Replace all the thick heavy carpets with small rugs, durries or jute mattresses (chattayee). In fact, the age-old khas-khas mats and chattayees are the best bet to cool your home.
You can even introduce a floor sitting with a nice soft mattress with pastel coloured bedsheets at one corner of the hall (even other rooms). Keep a potted plant beside it to get that cooling effect.
Keep your home neat and clutter free. This will keep you relaxed and calm.
Add some cologne or perfume to your air conditioner / cooler to get lingering freshness throughout the day.

Cool Talk
Rimi 'Dhoom' Sen:
"For me the best way to chill out during the summers is to stay at home and switch on the air conditioner and play my favourite music. And if that doesn't cool me off, I take a quick shower. Water is the best remedy to beat the heat."
Avantika Bahuguna
Royal Casserole Set - 3 Pieces
Deluxe Kitchen Set - 3 Pieces
La Opala Dinner Set- 35 Pieces (Urmi)
Rs.985 ($20.46)
Rs.675 ($14.02)
Rs.2,950 ($61.28)











Ask our Experts :
Expert Advice, Personality, Immigration (US), Tarot, Hot Couture, Body Care, Matrimonial Laws, Sexual Health, Life, etc, Man vs Woman, Fitness.