Romanticizing Your Home For Passion
Prime your entire house for fun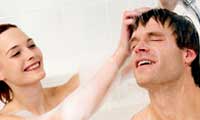 For most couples, passion and romance are generally relegated to the bedroom. I use the word relegated, because after a few years of being together, passion and sex end up feeling like a chore or an obligation.

But, if you just bring passion outside the bedroom, you'd be amazed how a simple change of venue can enhance your sexual excitement considerably. Thus, here are some suggestions for romanticizing your entire home for love and passion.


Candles: A great way to add some romance to your home is by placing different types of candles all over the house, including your bathroom. With so many types of scented candles, floating candles and votive candles available nowadays, your job couldn't be any easier. The candles look beautiful and set the mood in every corner of your home - not just the bedroom.

Hang a Mistletoe: Hang a mistletoe on doorframes and where ever else you can. Mistletoe is a plant that is traditionally hung during Christmas time. If someone is caught standing under the mistletoe tradition says you can kiss him or her. So if you happen to catch your partner under the mistletoe you'll know exactly what to do. Of course... you could always stand under the mistletoe on purpose and make yourself available!

Create mood-enhancing lighting: In most Indian homes, we tend to use bright, stark fluorescent tubes for lighting. Although you get adequate light, these do nothing to put you in a romantic mood. Instead, try using lamps, yellow tubes and low wattage bulbs wherever you can. You can even fit all your lights with dimmer switches to create the ideal ambience for passion whenever you want!

Music to the ears: Listening to soft, romantic music can do wonders to lift your mood. Try and keep a sound system, even if it is a small tape recorder, in your bedroom and living room. A portable CD player is also a good choice as you can take it to any location in your house.

Don't ignore the bathroom: The bathroom is as great a place as any to seduce your partner. Keep some aroma oils in the bathroom and join your partner for a sensual bath, after lighting those candles that I told you to keep in there. Also hang two fluffy, soft robes on the bathroom door, so that you can carry over what you started in the bathroom, to your bedroom!

Secret passion box: Keep a secret passion box, where you and your partner can put in small love notes, or sexual suggestion notes in the box. Since most couples are too shy to talk openly about sexual things they'd like to do, a secret passion box gives you the chance to convey your feelings to your lover without getting all embarrassed and uncomfortable. And when your man finds a dirty little note from you in the box, your passion will soar to great heights! If spontaneity is what you're looking for, a passion box is an absolute must.

Try the art of 'feathering': A great way to turn mundane TV time into rocking passion time is to use the feathering technique. Keep a few small feathers in a table or drawer next to the sofa. When your woman is engrossed in her saas-bahu sagas, or your man in his cricket match; you can pick a feather and start to caress your partner. Pay careful attention to the erogenous zones on the body, such as behind the ears, the neck, the stomach and the insides of the thigh. A few minutes of this and your partner will forget what TV is!

Have you ever tried something really fun to romanticize your home and partner? Share it with us here so all our readers can do the same.

Long live romance!

Ruchi Agarwal
La Opala Dinner Set- 35 Pieces (Urmi)
Philips Mixer Grinder - HL1629
Philips Grill - HD 4400
Rs.2,950 ($61.28)
Rs.3,795 ($78.83)
Rs.5,495 ($114.15)











Ask our Experts :
Expert Advice, Personality, Immigration (US), Tarot, Hot Couture, Body Care, Matrimonial Laws, Sexual Health, Life, etc, Man vs Woman, Fitness.